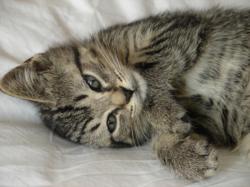 Life is so much more colorful with the love from our pets, and this business is focused at helping our customers give back to them in some small way.
Lebanon, TN (PRWEB) November 23, 2012
Sandy Stone is excited to announce the creation and launch of her new website http://www.petcratesandmore.com. The website is an on-line store that strives to provide the best in pet beds (heated, cooling and traditional), pet crates and kennels of all types, pet playpens and gates, accessories and much more. All products sold are specifically targeted at providing relief, contentment, security and promoting the overall well-being of dogs and cats. Stone is quoted, "as seeing it as a store that provides products, advice, and guidance that enables pet owners to say thank you for the unconditional love they receive everyday from their faithful four-footed companions."
As a devoted animal lover her entire life, Stone is thrilled about the opportunity in taking a path so close to her heart. PetCratesAndMore.com has also allowed Stone the ability to exercise her conviction that the best way to operate and build a business is by treating the customer as family. With this same deep love and passion Stone has for pets, she is committed to providing the best possible shopping experience to the customer. Therefore, new products and informative articles will be routinely added to the website to ensure customers will always have a reason to keep coming back.
Stone is also noted for her unique insight of providing new solutions to old problems. Concerning an article recently published by Stone on Pet Playpens Are a Must for Holiday Travel, reader Matthew Marsh commented. "I think this is an excellent article. Taking portable playpens is a great idea I've never heard of. I love traveling with pets for the same reason you mentioned, it's like having your whole family with you for the Holidays. Thanks."
Stone is also energized about the PetCratesandMore.com blog call Pet Love Blog that can be found on the PetCratesAndMore website http://www.petcratesandmore.com/pet-love-blog.html where Stone shares her tips, practical solutions, insights and some laughs on the everyday concerns and issues surrounding dog and cat owners. With dog and cat products ranging from fashionable to practical, addressing young to aging pet needs, PetCratesandMore is all about one person's love of animals and her belief in the unlimited possibilities of small business America.
About the company:
PetCratesandMore.com – a division of Sharpest Solutions LLC is owned and operated by Web entrepreneur Sandy Stone.