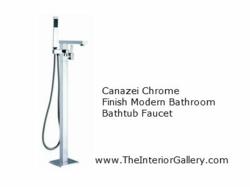 Offering a modern yet elegant look for any bathroom, these faucets will go well with the luxury range of modern bathtubs that are also on offer to give any bathroom a sense of relaxation, beauty and style
Allen, Texas (PRWEB) November 23, 2012
The Interior Gallery is joining the Thanksgiving holiday shopping season by offering their new modern bathroom faucets for sale. Not only that but the company has also slashed prices for all their bathroom range which includes bathroom vanities and cabinets, modern bathtubs, toilets, bidets and sinks.
New models of bathtub faucets were also introduced recently. Customers looking for modern bathtub faucets will find the new models to be stylish and elegant. Most models come with a sleek chrome finish while the core is made from solid brass. The designs were custom made by manufacturers for The Interior Gallery in line with the company's modern bathroom look.
The faucets feature an elegant mixer handle and drip-less ceramic disk cartridge. Offering a modern yet elegant look for any bathroom, these faucets will go well with the luxury range of modern bathtubs that are also on offer to give any bathroom a sense of relaxation, beauty and style.
According to a spokesperson for the company, customers who usually purchase their modern bathtubs, bathroom vanities and toilets will also ask them for recommendations on faucets. Customers who need help with the interior design of their bathrooms could approach the company as they offer design services and advice.
Consumers who are looking for other home products will be pleased to know that the offers are extended to the other products that are available on The Interior Gallery website. The products are grouped into their respective categories of Bathroom Vanities, Home Furniture, Lighting, Statues and Décor.
Some of the major clients of The Interior Gallery include McDonald's, MTV, The National Geographic Society, General Electric, The San Diego Zoo and T.G.I. Fridays.
All the products that are available on the website can be viewed physically at the company's newly opened $3 million showroom in Allen, Texas. The showroom is open from Monday to Friday (9.00am – 6.00pm), Saturday (10.00am – 6.00pm) and close on Sunday.
These products are designed specifically for the company and are shipped directly from manufacturers to the company's main distribution center located in Carrollton, Texas. They are then distributed directly from there to customers within the United States and Canada. The company offers a lowest price guarantee on their products along with tax free shopping except for Texas.
For more information, please visit the company website at http://www.TheInteriorGallery.com or contact their customer service at toll free 866-205-6867. Customers who wish to place their orders by phone could call 214-614-8176.