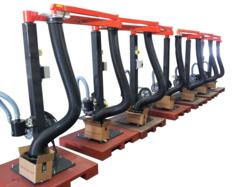 The Mobile Vacuum Lifting Equipment for Stone and Tile Flooring is the ideal solution to increase efficiency and improve health and safety conditions.
(PRWEB) November 26, 2012
The vacuum lifting equipment for lifting and handling stone, paving or tile floorings is the latest materials handling product from Packline. This new vacuum lifting solution is ideal for the construction and manufacturing industries. The weightless lifting solution is a quick and flexible handling solution. The vacuum lifters are mounted onto base plates in order to create a mobile solution, where the entire lifter can be moved by means of a forklift truck.
Where a mobile solution is required, a counterbalance weight can be used. The vacuum lifter is bolted down to the counterbalance weight rather than directly to the floor. This counterbalance weight allows for a forklift truck or heavy duty pallet truck to lift the entire lifting solution and move to another position or location.
The counterbalance weight can be fitted to any of the vacuum lifting solutions including the 'two-joint swing arm', the 'goldwing' and the 'swing jib' vacuum lifters.

Portable, mounted to counterweight (power supply required)
Standard: mild steel painted
Option: all stainless steel
The vacuum lifting heads have a 'fingertip' control bar so the operator uses minimum effort to move heavy loads.
Safety is of paramount importance and in the event of a power failure the load is gently lowered to the ground before the suction head will release.
The suction lifting equipment can be specified in stainless steel for use in the pharmaceutical and food industries.
With a remotely installed power pack, the vacuum lifters can also be installed in hazardous areas.
A wide range of suction heads is available to suit a wide range of lifting applications. Stainless steel vacuum lifters can be specified for use in the pharmaceutical and food industries.
With minimal dust traps the vacuum lifting units are very easy to clean.
Renowned for their quality, the vacuum lifters' simple, safe and reliable functionality makes them a great option for any business wishing to improve or eliminate handling and lifting issues they are experiencing.
Packline Materials Handling distributes vacuum lifting equipment across the UK and Ireland, in conjunction with their existing range of stainless and non-stainless steel lifting and handling equipment.
Packline Materials Handling has been designing and manufacturing lifting and handling equipment since 1993. The 'Compac' range of stainless steel materials handling equipment has established Packline as a leading supplier of quality roll and drum handling equipment for the food, drinks, dairy, pharmaceutical and medical processing industries worldwide.
Packline Materials Handling are able to provide bespoke lifting and handling solutions for materials handling issues involving rolls, reels and drums; by creating new concepts or tailoring existing lifting and handling equipment to meet specific requirements.
For further information on vacuum lifting equipment, please contact Packline Materials Handling on +44 (0)1202 307700 or visit http://www.packline.co.uk/vacuum_lifting_equipment.html.
Packline Ltd
Unit 28
Newtown Business Park
Ringwood Road
Poole, Dorset
BH12 3LL, UK