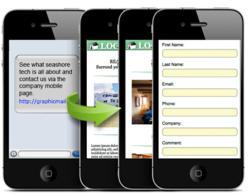 Deloitte predicts that shoppers' smartphone activity, including research, coupon use and purchases, could account for $36 billion in holiday sales this year.
Geneva, Switzerland (PRWEB) November 22, 2012
GraphicMail's mobile marketing innovation can have an immediate impact on business. Its push mobile text campaigns includes web links to mobile coupons or mobile sites. Companies can create the coupons or sites using free mobile templates and an easy to use mobile site builder. By sending SMS/ text campaigns with web links, companies can push the same type of rich media they're used to sending in emails. The advantage of SMS/text is that they have an open rate of 97% as opposed to 22% for email. (Frost & Sullivan 2010 & Epsilon 2009).
Says Nicholas Eckert, CEO at GraphicMail: "The mobile price reduction comes just in time to for the time of year when people's inboxes get cluttered with emails. By adding a weblink to a mobile text you can create a promotional campaign and broadcast it to a mobile device where the likelihood it will get delivered and opened is significantly higher. It will help business cut through the deluge of holiday promotional emails."
According to a recent study by Retail Systems Research (RSR), online retailers will increase their spending on email, mobile and social marketing by more than 20% compared to 2011 results. About 68% or the respondents expect sales to increase during this holiday, and nearly a quarter think they will see a rise by more than 50%. 40% of retailers report an overall increase in mobile marketing spending for the 2012 holiday season.
Mobile Marketing Association's Rimma Katz states in a recent article that SMS will be one of the main channels behind mobile marketing strategies among internet retailers – used to drive in-store traffic, engagement and sales. According to Accenture, 56% of mobile shoppers in the US are said to showroom, and 27% to buy via their devices. Deloitte predicts that shoppers' smartphone activity, including research, coupon use and purchases, could account for $36 billion in holiday sales this year.
This poses a great opportunity for mobile-smart marketers to differentiate and increase sales and engagement via mobile devices. A new report from Gartner found that in 2011, nearly 80% of major advertisers had not launched a mobile friendly site. Yet, a revolution usually starts with the "small guy". And this is where GraphicMail steps in. Even their free account users can set up a mobile site, based on templates, in the time it takes to prepare lunch. The software solution makes it easy to add maps, contact details and videos. Then, a SMS message is set up with a link to this personalised mobile site, hosted free by GraphicMail.
This kind of innovative SMS/ text messaging mobile campaign can be used for mobile coupons, event invitations, or full mobile sites. And in order to make it affordable, GraphicMail is allowing the creation and promoting of a mobile site at the same price as a regular SMS. "Traditionally, there have been concerns regarding weblinks in SMS messages, due to the limited penetration of smartphones. This, however, is no longer the case as smartphone penetration is in excess of 50% in the US (Nielsen ); and with a system able to render mobile sites on over 5000 mobile devices there is no need to worry about whether the person has a smartphone or not", reckons Nicholas Eckert, CEO at GraphicMail.