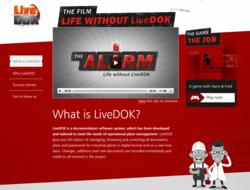 Karlsruhe, Germany (PRWEB) November 23, 2012
Comprehensive information about the practical benefits of an electronic plant documentation system can be gained from in a highly entertaining way at the website http://www.livedok.com. In a short film, engineer Fred and his agile technician Harry show how hard a life without Livedok can be. Website visitors who enjoy a game and have a minute or two to spare can take part in an online game and try to crack the high score. By the time they have tried their skill they are sure to be convinced of the usefulness of electronic plant documentation, especially since the website also gives a clearly-structured account of the technical facts.
The Livedok system supports the complete life cycle of documentation, from drawing up documents, through comfortable use, to the revision of the changed documents. Livedok can process all usual formats – it can deal with ground plans, site plans, process flow charts and loop lists just as well as with operating instructions, inspection requirements or maintenance instructions. All authorized persons have access at all times to the most recent information status, changes are easy to make and can be traced at any time. Since Livedok now supports not only Windows but also Android, mobile equipment such as tablet PCs and smartphones can also be used on-the-spot.
Roesberg Engineering GmbH, founded in Karlsruhe in 1962, offers tailored automation solutions created by nearly 100 employees working at five locations in Germany and China. These provide basic and detail engineering for the automation of process and production plants. Roesberg also has extensive project planning and application experience in the use of all usual brands of programmable logic controllers (PLCs). Many companies also put their trust in Roesberg for the configuration, delivery and commissioning of distributed control systems, as a manufacturer-neutral system integrator. A state-of-the-art workshop for the production of customer-specific cabinets completes the service offer. In the area of information technology, Roesberg has enjoyed international success for more than 20 years now with its database-based I&C-CAE-system PRODOK. In 2007, Roesberg presented LiveDOK, a system which offers efficient access to electronic plant documentation, and ensures maintenance and consistency of documentation over the whole life cycle of the plant.