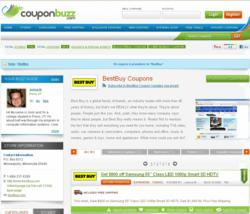 Knowing exactly what you are missing out on is a terrible thing.
Houston, TX (PRWEB) November 22, 2012
A great many people are setting their alarm clocks tonight for a ridiculously early hour in order to go stand in line at Best Buy. However, some savvy shoppers are simply going to spend the football game half-time in their recliner shopping CouponBuzz.com's Best Buy merchant page, and snagging one of the fabulous Best Buy Black Friday deals going on right now! For example, football fans nationwide can be thankful for the Best Buy Black Friday coupon code for $800 off a Samsung 55" HDTV, with free shipping right to their door.
"One of the pitfalls of running a coupon website like CouponBuzz.com is that you get a front-row seat to all of these fabulous deals! Knowing exactly what you are missing out on is a terrible thing," bemoaned Justin Bowen, founder of CouponBuzz.com. "I would love a new HDTV, and a new laptop, and a new digital camera, all of which are Black Friday deals currently featured at ridiculously low prices on our Best Buy store page. Coming in to work is becoming an endurance test for my restraint."
This particular Best Buy coupon code for $800 dollars off the Samsung 55" Class LED 1080p Smart 3D HDTV is valid only for a limited time, dropping the price of this drool-worthy television to a budget friendly low. The 3D technology provides stunning visuals that will upgrade consumers' television watching habits to new levels, and the 1080p display ensures a progressive-scan picture of the highest quality possible from a high-definition source. It is also perfect for wall-mounting with its ultra-slim design, just 1 ¼ inch deep with two 10W speakers for great sound quality.
In addition, this Samsung 55" inch HDTV is Smart Enabled, providing instant access to the internet and streaming content from providers like Netflix, Pandora, CinemaNow, and other internet favorites. If that weren't enough, it is also capable of full-web browsing, running a dual-core processor for speeds and performance that can outpace all but the newest computers. It also incorporates Smart Interaction Technology with a built-in camera that has facial recognition, hand gestures and vocal commands. The Samsung 55" Smart 3D HDTV is extremely well connected to support all the needs of consumers in this digital age, with 3 HDMI and 2 composite and 1 component video inputs, 3 USB ports, a built-in Ethernet port, and built-in Wi-Fi.
Black Friday deal-shoppers interested in accessing the Best Buy coupon code for this Black Friday offer of $800 dollars off the Samsung 55" Class LED 1080p Smart 3D HDTV can find both the coupon and full specifications for the HDTV via CouponBuzz.com's Best Buy store web page, located here http://couponbuzz.com/bestbuy-coupons.html.