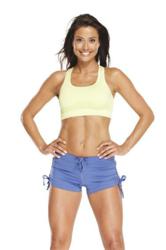 "come on girls let's get fit and gorgeous."
London (PRWEB UK) 21 November 2012
The secret to slimming down with Define & Refine this Christmas. These totally herbal, natural capsules will stimulate fat loss and sculpt the body to perfection.
"Wouldn't dieting be easier if you could lock yourself away from the rest of the world and get on with your diet in peace, no friends trying to talk you into that cream cake, no temptation to finish off the kid's teatime leftovers, no adverts on television showing you those lovely chocolate bars and no thinking of what you are going to eat tonight".
For an incredible uplift in body health, Define delivers a well-rounded selection of all-natural ingredients that improves the body's definition, boosts metabolism, and regulates blood sugar levels to avoid snacking and stay slim.
The active ingredients of Konjac, Green Tea, Caffeine and Chromium have been shown to help assist weight loss, boost energy levels, and improve metabolism as part of a healthy diet.
Refine works best as part of a healthy lifestyle and exercise regime to promote the development of lean muscle and reduce stubborn fat deposits.
The all natural active ingredients of Conjugated Linoleic acid (CLA), Yerba Mate and L-carnitine have been shown to help improve physique and the conversion of fat into toned muscles. The powerful fat fighters of Refine will transform stubborn fat deposits into a lean and toned physique in record time.
Top tips to make it through the holiday season & stay in shape:
1.Focus on how you feel not how much you weigh (muscle from exercise weighs more than fat)
2.Set achievable goals
3.Make changes that you can stick too
4.Enlist some friendly support
5.Don't let setbacks, set you back focus on the end goal
6.Keep your diet varied
7.Don't go food shopping when you are hungry
8.Do treat yourself
9.Combine healthy eating with exercise for best results
10. Eat little and often
No one ever said that losing weight was easy, but sometimes some of us need that extra boost. The thought of going on a diet, can often prolong the process, but if you kick start your diet with Active Woman you will certainly be moving on the right track.
Direct Line: 020 7569 2528
Direct Fax: 020 7723 1827
Website :http://www.bio-synergy.co.uk
Notes to the editor:
Available nationwide from the following:
Holland & Barrett, GNC, Littlewoods, Argos http://www.argos.co.uk or Bio-Synergy http://www.bio-synergy.co.uk
Active woman Define & Refine pills £19.99 per container for 30 day supply
Two capsules to be taken per day.
Bio-Synergy has been at the forefront of creating efficacious and innovate sports and health nutrition since 1997 and has received numerous independent accolades, awards and endorsements.