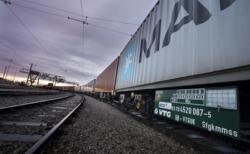 "Freightliner's investment in the new 'Shortliner' wagons demonstrates Freightliner's continued commitment to understanding and then meeting our customers' needs in a market which is increasingly dominated by 40ft containers.
(PRWEB UK) 22 November 2012
In April, Freightliner announced an order had been placed with VTG for a fleet of twin platform 'Shortliner' wagons to meet the demand of the evolving deep sea container market towards 40ft containers. The 40ft deck length, two platform wagons are designed to maximise the amount of 40ft containers that can be hauled per service minimising under-utilised 20ft space. 'Shortliner' wagons enable Freightliner to maximise port and inland capacity, reduce CO2 emissions and increase network utilisation by maximising the amount of boxes that can be hauled on one service.
Through the use of these new wagons, Freightliner can uniquely haul longer, heavier trains using the state of the art PowerHaul locomotives to create 'Shortliner' services. Through the offer of the new ground-breaking 'Shortliner' services, Freightliner is able to increase the number of 40ft containers hauled per train by over 42% in comparison to a standard Class 66 service hauling 24 wagons, whilst still fulfilling the available 20ft market customer demand.
Freightliner commenced 'Shortliner' services at the end of October, running eight twin wagons (16 platforms) on its services between the Port of Felixstowe and Manchester and to date, each platform has been fully utilised with a 40ft container. Freightliner will have completed its initial delivery of 86 (40ft) platforms by end December 2012 utilised on routes with the greatest demand for additional 40ft capacity.
Adam Cunliffe Managing Director, Freightliner commented: "Freightliner's investment in the new 'Shortliner' wagons demonstrates Freightliner's continued commitment to understanding and then meeting our customers' needs in a market which is increasingly dominated by 40ft containers. The new wagons complement Freightliner's existing 60ft wagon fleet ensuring a dramatically improved utilisation of both 40ft and 20ft containers. Our capability to haul longer, heavier trains combined with the new Shortliner wagons reaffirms Freightliner's market leading position to ensure that more containers are moved by rail, with reduced lorry movements and associated reduced CO2 emissions."
About Freightliner
Previously part of British Rail, Freightliner was privatised in 1996 and has since increased turnover by over 180 percent. Initially only providing Intermodal services, the company has since expanded to have five subsidiary companies, all operating under Freightliner Group Limited.
Freightliner Limited is the UK's largest hauler of maritime containers, accounting for 20 percent of the total market share, and 80 percent of the rail-fed market.
Freightliner is officially the UK's most reliable rail freight operator with an industry-leading reliability of 98% on-time delivery. Operating over 102 daily services over 37 direct route offerings to and from the UK's deep sea ports to 14 destinations, 9 of which are terminals owned and operated by Freightliner. Freightliner uniquely provides a complete logistics package through the use of its in house road fleet of 300 vehicles with local road services, to move customers' containers on the first or last leg of a worldwide journey.
In 1999, Freightliner identified a significant opportunity to expand, and established Freightliner Heavy Haul Limited (FHH) to service the bulk rail freight industry. FHH now operates nationwide in the coal, aggregates, cement, specialist minerals, steel, and waste sectors, and has grown to a turnover of over £100m.
Since then, Freightliner Group has established new subsidiaries; Freightliner Maintenance Limited, a separate entity dedicated to the repair and maintenance of traction and rolling stock and international subsidiaries;
Freightliner PL Limited which began operations operations in 2007 in Poland After an initial coal contract, they expanded to offer services to the aggregates industry, and now operating cross border services between Germany and Poland.
Freightliner Australia Pty Limited, commenced operations in July 2009, transporting containerised cotton from Wee Waa to Port Botany on behalf of Namoi Cotton. In 2010 Freightliner Australia signed a long term contract with Xstrata Coal for the provision of rail haulage services from their Hunter Valley coal mines in New South Wales, Australia to the port of Newcastle.
How is Freightliner increasing network utilization and lowering carbon emissions?
PowerHaul locomotives have greater fuel efficiency, higher haulage and acceleration capabilities than any current diesel locomotive in the UK, enabling Freightliner to uniquely; reduce CO2 emissions, improve reliability increase port capacity and network utilisation.
Through the use of our new Shortliner wagons, we are able to haul 42% more 40ft containers per service without wasting any 20ft space, enabling us to meet the growing 40ft market demands whilst fulfilling 20ft container needs.