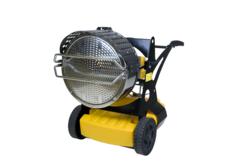 Portable heating solutions designed for professionals.
dki, Poland (PRWEB UK) 22 November 2012
Gą Master XL-9 oil heater is intended for spot heating of large facilities. It is available in two versions: "ER" with 43 kW power, and "SR" with two-step power output adjustment, 29 or 43 kW. Both units are fitted with a high quality combustion chamber made of ceramic fibers as well as an electronic flame controller with a photocell. The casing is also noteworthy, reinforced structure means the device is much more stable and resistant to damage. As an optional accessory, the manufacturer would suggest using a special stacking kit for easy vertical storage of the equipment.
The second infrared oil heater model introduced to the market is the XL-6 with 17 kW capacity. The device is intended to heat small areas, it's very often used by small construction companies and fitter teams, whenever there is no need to use a larger model. In this model, the manufacturer also took great care to select the best possible components to ensure long and reliable life of the device. The heater can also be fitted with a set of wheels for easy transportation.
Spot heating has recently become to be looked upon favorably due to the energy savings it offers. The heat generated by infrared radiators is directed at a particular spot, which means it's heated quickly and effectively. At the same time, the problems of excessive heat loss present when using blow-on heaters has been limited. The infrared heaters run quietly, do not generate air movement, yet provide lots of heat which can be felt immediately after turning on the device.
Infrared heaters are perfect for open and semi-open spaces, where other means of heating are not as effective or even impossible to deploy. The device allows to heat a specific working spot, or, for example, to de-ice water installation components or individual construction equipment.
Master Climate Solutions emphasizes effective use of heat energy as one of the key factors in selecting the most suitable space heater. The use of infrared heaters is the perfect solution, because the heat can be directed at a specific spot, at the same time it does not increase the overall ambient temperature in a facility.
About Master Climate Solutions Group
Master Climate Solutions is a world leading manufacturer of machinery for air processing. It manufactures oil, gas and electric heaters and dehumidifiers – all under the Master brand. The Master machines are widely used in construction, agriculture and logistics. Master Climate Solutions Group consists of four entities: in Italy, Poland, Russia and China. Distribution around the world is based on the network of authorized dealers.