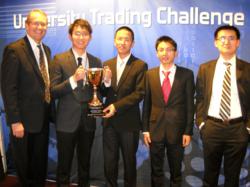 The quality of these participating students is amazing! - Dr. Nick Barcia
New York, NY (PRWEB) November 21, 2012
A UCLA Anderson School of Management student team finished first out of 20 teams competing in the University Trading Challenge in New York on November 16th, 2012.. The UCLA Anderson Team was part of the 80 students, representing 14 universities that participated in a financial trading completion that started October 8th and concluded at the final day event hosted at Baruch College's Wasserman Trading Floor.
A student team from University of Rochester's Simon School of Business team finished second with Fordham University finishing third in this highly competitive competition.
The University Trading Challenge required the student teams to tackle three distinct challenges and demonstrate their aptitude for consistently selecting and executing trading strategies. All teams used simulated trading software provided by CapitalWave Inc.
Sandra Buchan, Director of Career Services for the Master of Financial Engineering Program at UCLA Anderson School of Management "Our participation in this competition has been quite exciting. Competing with all of these other universities across North America is an amazing experience for our students. The level of competition our students faced is a great preparation for what is coming when they are going to hit the markets."
Can Zhao, from the winning UCLA Anderson team said: "Participating in the University Trading Challenge competition helped our team apply our finance and quant skills in a real world scenario. We also had the opportunity to work with specific software over a period of time which will certainly enhance our employability."
Bryant Nielson, Director for the University Trading Challenge commented, "The quality of students and their concentration on each of the challenges is testament to the quality of programs at the participating universities. Any of the winning team's student are of extremely high quality and should be hired by Wall Street firms without any hesitation."
The University Trading Challenge is a realistic capital market trading competition designed for Graduate students seeking degrees in finance, economics, mathematics and business.
###
About CapitalWave Inc. & University Trading Challenge
The University Trading Challenge is an annual event with competitions held in New York and London. It is designed to challenge students seeking degrees in finance, economics, business and mathematics. The competition challenges students to compete in specific trials that provide them with experience and perspective as it relates to a career in the financial markets.
With offices in New York, CapitalWave is a leading global provider of financial training simulations in the capital & wealth markets. CapitalWave offers various simulation platforms, including a stock market simulation platform, a portfolio management simulator, a portfolio news management simulation, as well as a learning platform for understanding derivatives and structured finance.
For more information, please visit http://www.capitalwave.com
Capital Wave, Media Contact:
Bryant Nielson
Phone: 212-672-1944
E-mail: press(at)capitalwave(dot)com