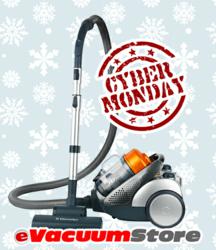 Boston, MA (PRWEB) November 22, 2012
It's that time of year again and eVacuumStore.com has unveiled their Pre-Black Friday promotions including special reduced prices on a number of products. The online hub for cleaning supplies offers free shipping year-round for all orders exceeding $50, so eVacuumStore has announced that they will be offering 10% off any order placed this week as a part of their Black Friday Week promotion.
Cyber Monday and Black Friday mark two of the biggest online shopping days of the year with online sales for this year's Cyber Monday projected to exceed 2 billion dollars. Because consumers turn to their favorite online retail stores on the Monday following Thanksgiving, eVacuumStore will be offering 10 percent off any purchase as well as 15 percent off any vacuum over $495, free shipping on orders over $25.00, and gifts giveaways on certain orders.
Some of the unique discounts eVacuumStore will be offering will be disclosed on Monday while other deals such as the universal 10% off any order will be available to shoppers all week long as part of eVacuumStore's Black Friday Week sales. The unique discounts will be specific to certain brands and models and will be initiated on Cyber Monday in order to stay true to the online shopping holiday.
About eVacuumStore.com:
eVacuumStore.com is well-known to its patrons for specializing in sales, information, and even diagnostics and troubleshooting on vacuum cleaners, vacuum cleaner parts and accessories, and a wide variety of other cleaning products and machines such as steam cleaners and shampooers. With eVacuumStore prices already associating the company with bargain deals, discounts, and low prices, sales specific to this time of the year will make the popular internet destination all the more attractive to anybody looking to upgrade their vacuum cleaner, add to their arsenal of cleaning tools and accessories, or replace bags and filters that have fulfilled their duties inside the vacuum.