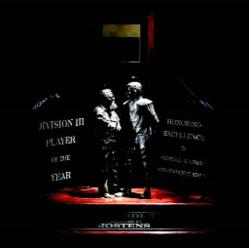 Minneapolis, Minnesota (PRWEB) November 22, 2012
One junior and nine seniors are among the 10 finalists for the 2012 Gagliardi Trophy given to the most outstanding football player in NCAA Division III (D-III) by Jostens and the J-Club of St. John's University of Minnesota. The Gagliardi Trophy, given annually since 1993, recognizes excellence in athletics, academics and community service. The award is named after John Gagliardi, St. John's legendary Hall of Fame head football coach who has 489 career victories, the most in college football history.
The Gagliardi Trophy will be presented on Wednesday, December 12, in Salem, Va., home of the Stagg Bowl, at a banquet kicking-off the D-III championship weekend. Candidates are nominated by their college president. The top four vote-getters, as determined by a national selection committee, will be on hand for the banquet; announcement of the winner and presentation of the trophy will be made at that time.
McCallum Foote, Middlebury quarterback, is the lone junior finalist. Six others played this past Saturday in the Division III national playoffs: James Curtis, St. Thomas center; Nick Driskill, Mount Union safety; Luke Heinsohn, Washington and Lee running back;
Craig Sykes, Heidelberg linebacker; Nathan Wara, Wisconsin-Oshkosh quarterback;
and Scottie Williams, Elmhurst running back. The other finalists are Zach Autenrieb, defensive back from Thomas More; Wyatt Hanus, Dubuque quarterback; and Noah Joseph, Union linebacker.
Nominations were submitted by 21 colleges from Vermont to California and Minnesota to Texas. The candidates included six quarterbacks and running backs, four linebackers, two defensive backs, one wide receiver, one defensive end and one offensive lineman. The final 10 were selected by the J-Club Board of Directors.
The Gagliardi Trophy national selection committee is composed of 38 former small college football players, business leaders, academicians and sports writers from around the country. Each casts a ballot ranking the ten finalists.
The trophy design features a sculpture of Gagliardi and a player representing the teacher-coach and the student-athlete in a classic one-on-one sideline consultation. Hand-cast in bronze on a polished wood base, the trophy stands nearly two-feet tall and weighs 64 pounds. The words "Division III Player of the Year" and "Honoring Excellence in Football, Academics and Community Service" are etched in glass on two panels flanking the figures. Record-setting wide receiver Michael Zweifel from Dubuque was the 2011Gagliardi Trophy winner.
The 2012 Gagliardi Trophy finalists include (statistics are through end of regular season, November 10):
Zach Autenrieb, Thomas More College (Kentucky) senior DB accounting major
National D-III leader with 8 interceptions in 2012 (2 returned for TDs), 32 INTs for his career. Honor roll student. Volunteer engagement includes Special Olympics, Relay for Life.
Nick Driskill, University of Mount Union (Ohio) senior S exercise science major
Safety on D-III's top defense allowing only 156.7 yards and 4.5 points/game. National Science Foundation Scholar Athlete. Volunteers with Fellowship of Christian Athletes and youth outreach.
McCallum Foote, Middlebury College (Vermont) junior QB economics major
Tops in D-III with 32 completions per game; threw 31 TD passes. Responsible for 24.8 points/game. Dean's list student. Volunteers with Special Olympics and served as a teacher's assistant in Spain.
Wyatt Hanus, University of Dubuque (Iowa) senior QB accounting/business marketing major
Conference offense MVP; 9th nationally with 316.5 yards passing/game. Academic all-region. Volunteer engagement includes Special Olympics, shelter for homeless women and children, YMCA.
Luke Heinsohn, Washington and Lee University (Virginia) senior RB/PK business administration major
National scoring leader (all divisions) with 180 points 21 TDs);kicked FG in 4-overtime win. Off-field engagement includes American Cancer Society, Bike MS, directing fellowship music program.
Curtis James, University of St. Thomas (Minnesota) senior C business administration major
Center on offensive line that allowed only 8 sacks in 2012; 5 teammates had 100-yard rushing games. Off-campus activities include serving as head speech coach at local high school.
Noah Joseph, Union College (New York) senior LB chemistry – sociology major
All-conference league-leader in total tackles; 6 games with double-digit tackles. College scholar athlete as a junior. Volunteers as youth and group home counselor; founded campus speaker program.
Craig Sykes, Heidelberg University (Ohio) senior LB biology major
Play-caller for 11th-ranked scoring defense; had 2 INTs. Academic All-American. Serves students with special needs and as peer tutor.
Nathan Wara, University of Wisconsin-Oshkosh senior QB physical education major
Helped team to first-ever playoff berth; threw 22 TDs and 1 INT in 10 games. Member all-conference honor roll. Volunteer engagement includes food pantry, Boys and Girls Club, Habitat for Humanity.
Scottie Williams, Elmhurst College (Illinois) senior RB marketing major
Conference offensive player of the year; 2nd in rushing nationally, 7th in scoring. Academic All-American. Active with campus interfaith and community service project, church bible school.
About John Gagliardi
After 489 career victories in his 64 seasons as a head coach at the collegiate level, John Gagliardi announces his retirement.
"Seventy years (60 at SJU) is a long time to be doing the same job," Gagliardi said. "Luckily, I've always been blessed with great players, friends, family and support to make it this far."
Gagliardi will remain on staff until his current contract expires June 30, 2013. The search process for his replacement begins immediately.
"Arguably, John Gagliardi has impacted the lives of as many young men as any individual in the history of Saint John's University," SJU President Dr. Michael Hemesath said. "His legacy of educating young men at Saint John's is one that any coach or professor would envy.
"The kind of loyalty and commitment John showed to Saint John's and his student-athletes is rare and exemplary. It is an example of how John modeled good character and ethical behavior for his student-athletes and the community for 60 years."
About Jostens
Minneapolis-based Jostens is a provider of products, programs and services that help people tell their stories, celebrate important traditions and recognize achievements. The company's products include school yearbooks and other memory book products, scholastic products such as class rings and graduation products, and products for athletic champions and their fans. Jostens is a subsidiary of Visant Corporation, a marketing and publishing services enterprise servicing the school affinity, direct marketing, fragrance and cosmetics sampling and educational and trade publishing segments.
About St. John's University J-Club
Founded in 1959, the St. John's University J-Club is a dues-based booster organization of former Johnnie student-athletes, parents and fans, and plays a key role in support of the SJU varsity programs, intramurals and club sports. St. John's is a private liberal arts college for men located in Collegeville, Minn.
###