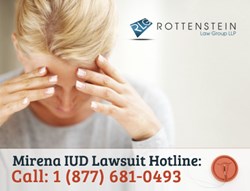 (PRWEB) November 21, 2012
In recent weeks, many current and former Mirena IUD users have contacted the Rottenstein Law Group alleging this intrauterine birth control device caused them to develop infections, or ovarian cysts, or caused them to suffer bouts of pelvic inflammatory disease. Still other women have called the firm claiming the Mirena IUD perforated their uteruses, migrated outside of their uteruses into other areas of their pelvises, or caused ectopic pregnancies (that is, pregnancies outside of their uteruses). Based on the outcomes of prior lawsuits with similar elements (and our analysis of the current situation), RLG estimates that a claim against Bayer, the manufacturer of the Mirena IUD, might be worth a substantial amount. The firm has therefore established a hotline devoted to taking calls from women who allege they've suffered as a result of the Mirena IUD. The hotline's number is 1 (877) 681-0493.
For the next several months, the RLG lawyers manning the firm's Mirena IUD hotline will be standing by, waiting to hear from women who think they may have been injured by a Mirena IUD. RLG's lawyers will assess these women's claims for free.
The Rottenstein Law Group has also created a Mirena IUD Lawsuit Information Center at http://www.rotlaw.com/mirena/ for the benefit of women who want information about the Mirena IUD's risks and the lawsuits that former Mirena IUD have filed.
The firm is imploring anyone who believes she was hurt by the Mirena IUD to call the Rottenstein law Group's Mirena IUD hotline 1 (877) 681-0493 so the firm's attorneys can review her case. The consultation will be free and confidential.
About THE ROTTENSTEIN LAW GROUP
The Rottenstein Law Group is a New York-based law firm that represents clients nationwide in mass tort actions. The firm's founder, Rochelle Rottenstein, has more than two decades of experience as a lawyer, and compassionately represents clients in consumer product injury, mass tort, and class action lawsuits.
Contact:
The Rottenstein Law Group, LLP
Rochelle Rottenstein, Esq.
321 W. 44th Street
# 804
New York NY 10036
(212) 933-9500 (office phone)
(212) 933-9980 (facsimile)
rochelle(at)rotlaw(dot)com
http://www.rotlaw.com