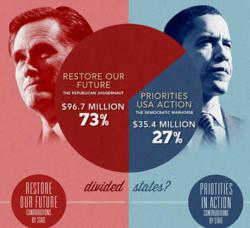 ...a more disturbing trend is that the last four elections have been won by candidates with bigger campaign receipts.
Washington, DC (PRWEB) November 26, 2012
FinancesOnline.com recently released an infographic titled "Elections 2012: Is It All about The Money?" that is analysing the many facets of presidential campaign finances in the just concluded presidential elections.
It is widely known that this election is proving to be the most expensive ever. Some peg the total cost of the 2012 exercise at US$ 6 billion. This figure is on an upward trend, but a more disturbing trend is that the last four elections have been won by candidates with bigger campaign receipts. The infographic clearly shows this trend, but there's a surprising drop in both Democrat and Republican campaign receipt figures in 2012. Much of this has to do with the fact that both candidates did not accept federal funding, but also because much of the spending, especially for traditional and online media, has been shouldered by "outside sources."
Other issues tracked by the financesonline.com infographic include:
Month-on-month management of finances by both camps. In August, Romney all but closed the funding gap but Obama's funding posted a huge receipts surge in September and ended the campaign period pulling away. Despite the fact that Obama consistently spent more for every monthly period tracked, the Obama coffers were always more liquid throughout the months leading up to Nov. 6.
A look at the individual contributions picture shows Obama getting heavier support from "small" contributors. An interesting side story here is whether the states actually voted as they contributed. There is an apparent trend, considering that Obama won in the top four states that contributed the most to his campaign. Romney's story, on the other hand, is not written by individual contributions but by the amounts spend for his campaign by SuperPACs.
SuperPAC money. A side-by-side view of Priorities USA Action and Restore Our Future, the two biggest SuperPACs supporting Obama and Romney, respectively. Romney leads Obama here by a wide margin. This section also identifies the biggest contributors to both.
Leadership PACs. A snapshot of money circulating at the local political levels. This is critical in the sense that it represents grassroots support for a candidate and this support is usually defined by the priorities and persuasions of local kingpins. In swing states with a large number of undecided voters, leadership PACs knocking door-to-door may have been responsible for convincing them to go out and vote.
The infographic also features interesting side stories of controversies that surfaced during past presidential elections. As early as the year 2000, unlimited soft money emerged as an issue, which remains contentious up to this time. The biggest funding story, of course, is the unlimited outside spending that resulted from exploiting loopholes in the landmark Citizens United vs. the Federal Election Commission case.