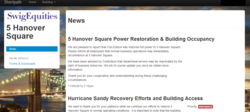 During this chaotic and distressing event - when most phones were not available - we were relieved to know Shortpath could in one transmission keep our many tenants updated on building progress.
-Julie Arce, Manager, 90 Broad Street, NY
New York, NY (PRWEB) November 21, 2012
Many buildings in downtown and midtown Manhattan are using Shortpath to alert tenants on emergency relief efforts. Buildings in the downtown area that were severely affected by the Hurricane have been closed since Sandy's touchdown, meaning that those businesses who occupy space in these facilities, have been forced to work remotely, leaving many workers to wonder when their office building will re-open, and if their belongings are safe.
Shortpath's emergency messaging system has been a helpful tool in answering that question. The system is being utilized in New York City office buildings in areas affected by Hurricane Sandy, giving facility managers the capabilities to communicate building status updates to their tenants in the fastest and most efficient way possible.
Alerts regarding ConEd's power restorations, mail pickup locations, status updates from the department of buildings, updates on specific tenant spaces, advisories on what to wear and what to bring if you need to access your office, and other related recovery efforts are being communicated through Shortpath. Facility Managers send these building-wide alerts by logging in to their Shortpath Building Portal. From there, they can attach photos, set a priority marker, type the message, and click send. Tenants are then alerted via email, and can also access the message by logging into their Shortpath Building Portal and clicking on their Building's Message Board. All messages are composed and managed by designated building administrators, and are stored online and accessible to tenants anytime from any mobile device, desktop, or tablet. To register for a demo of the product, click here.
In the past, Shortpath has proven to be an effective communication tool for important building announcements such as fire drills, holiday hours, blood drives, and special building events, to name a few, and is a free tool for facilities of all sizes.
Shortpath is a division of Building Intelligence Inc. Our online facility management system, offers applications and tools that simplify the exchange of products, services, and information among building owners, office managers, tenants and vendors. Visit us online at http://www.shortpath.com.
Building Intelligence, Inc is a New York based information technology and security services provider founded in 1997. The company provides a suite of facility and security cloud-based solutions for managing facilities in many different industries. Scalable to industries such as commercial, residential, government, hospitality, healthcare, stadiums, and performance centers, our cloud-based portal, vehicle security, visitor security and vendor solution is customized to fit the needs of the buildings, the tenants and the security companies that service those facilities All of our systems provide streamlined operations, logistics and analysis and comprehensive security protocols that provide people, property and business with an ideal combination of services. Visit us online at http://www.buildingintelligence.com.