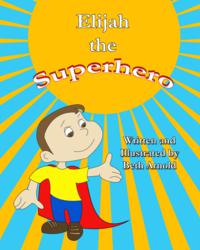 Fort Lauderdale, FL (PRWEB) November 21, 2012
'Elijah the Superhero' is a children's book that promotes kindness and caring for the earth. It's now available with free classroom activity ideas and worksheets for teachers. The free downloads include: group activities, coloring pages and individual exercises. The free downloads can be found at: http://gethappytips.com/elijah-the-superhero
Throughout the book, Elijah learns that small actions make a big difference. Whether Elijah is recycling, helping a waitress or cleaning his room, he is continually learning to be a superhero.
Author and illustrator, Beth Arnold, said, "Every child wants to be a superhero. 'Elijah the Superhero' shows kids that you don't need super powers to do extraordinary things. I wanted to provide teachers with free tools to teach these same life lessons in the classroom."
Elijah the Superhero is available on Amazon.com and other online retailers.
Five percent of all proceeds benefit Life Vest Inside, which is a non-profit organization dedicated to creating positive changes in the world through kindness.
About Elijah the Superhero
Have you ever met a superhero? Whether Elijah is feeding a homeless man or learning to recycle, he is making the world a better place. Join Elijah on his adventures to learn that random acts of kindness can turn anybody into a superhero. This children's picture book is perfect for kids ages 3-7. Elijah the Superhero helps teach young minds about being a good person and always doing the right thing. The book is currently available on Amazon.com and other online retailers. Visit http://www.gethappytips.com/elijahthesuperhero for more information.