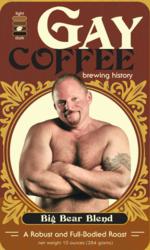 Each bag of Gay Coffee tells a story. We're taking LGBTQ history to new spaces – from store shelves to kitchen counters across the world!
Williamsburg, Mass. (PRWEB) November 23, 2012
Gay Coffee Company is offering new LGBT caffeinated gifts for the upcoming holiday season, along with its best-selling line of gift tins and sassy ceramic mugs. New sampler packs are available individually, or as gift sets and subscription gifts. Gay Coffee is now also offering all coffees pre-ground for easy, no fuss brewing. All Gay Coffee gifts and coffees are available online and at select stores.
Among the company's new holiday offerings is its latest roast, Big Bear Blend, a robust and "full-bodied" blend that celebrates the Bear subculture within the LGBT community. The company launched a photo contest for the Bear roast over the summer, and the winning bear is featured on Bear Blend bags and tins. Click here for a look at the contest winner and runners up.
Gay Coffee, which launched in October 2011 at the Castro Street Fair in San Francisco, is the unique fusion of fair trade, organic coffee and the history and culture of the LGBT community. Each coffee is roasted by hand, and each roast celebrates a different aspect of LGBT history, using humor and education to inspire conversation. Gay Coffee sells online and is on the shelves of U.S. stores from Boston to San Francisco.
About Gay Coffee
Gay Coffee, the gay-owned and -operated roasting company, roasts and sells 100 percent fair trade coffee. Gay Coffee celebrates the gay community, its history and unique contribution to the world. Coffees are fairly traded and organically sourced, respecting coffee growing partners, and the planet's health with one percent of all profits donated to the National Gay Lesbian Task Force. Each batch is roasted by hand and lovingly packaged to produce the gayest and most delicious coffee available. Buy coffee online, search for a store carrying Gay Coffee or inquire about stocking Gay Coffee for your clientele at http://www.gaycoffee.com.
MEDIA CONTACT
For more information about Gay Coffee please contact Melissa Krueger at melissa(at)gaycoffee(dot)com. To download high-resolution images of our gift items and products, please visit http://www.gaycoffee.com/press/.