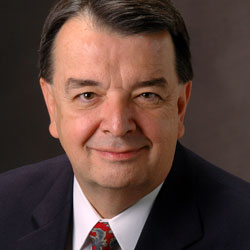 Dayton, OH (PRWEB) November 23, 2012
Come and celebrate one of the largest Advent graduating classes at United Theological Seminary during United's Advent Commencement on Friday, December 14, at Ginghamsburg UMC, 6759 S. County Road 25A, Tipp City, Ohio.
The Graduate and Family Eucharist begins at 9:30 a.m., with commencement to follow at 1 p.m. The ceremony will feature Bishop Michael Coyner, Bishop of the Indiana Area, UMC, as the commencement speaker for the class of more than 50 doctoral students and 15 master's degree students.
Bishop Coyner is originally from Anderson, Indiana. He received his B.A. from Purdue University, his M. Div. from Duke Divinity School and his Doctor of Ministry from Drew Theological School. He was elected a bishop of the United Methodist Church in 1996 and was assigned to serve the Dakotas Area, where he served two terms. In 2004, Bishop Coyner was assigned to return to the Indiana Area as Bishop. He oversees the life and ministry of 1,250 United Methodist congregations in the Indiana Conference.
For those who can't make it to Ohio but who would still like to watch the live ceremony, it will be Livestreamed here or it may be viewed at the same address following the commencement ceremony's completion.
United Theological Seminary, now in its 142nd year, is one of the fastest growing theological schools in the United States. It was founded in 1871 by Milton Wright, a Bishop in The United Brethren Church and father of Wilbur, Orville and Katherine Wright. United offers accredited, innovative graduate and non-degree education programs for both clergy and laity. Click here for more information about United Theological Seminary.