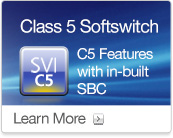 The SVI-C5 is delivered in a dual-redundant formation, which provides carrier-grade 99.999% availability
dorset (PRWEB UK) 22 November 2012
Squire Technologies have announced the release of a carrier-grade Class 5 Softswitch (SVI-C5) with built-in Session Border Controller functionality as part of their latest software upgrade: the SVI Release 11. The Class 5 is also deployed in a highly-available architecture, making it one of the most secure and resilient Class 5 Softswitches currently available.
The SVI Release 11 has enabled the standard Class 5 features common across the industry such as call forwarding, select call acceptance/rejection, Voicemail and Voice Announcement along with a host of other features. Having assessed the market, Squire have taken their C5 a stage further than many in the industry and included Session Border Control (SBC) functionality within their C5 package in order to increase the overall security of the service.
Squire's Marketing Manager, Matt Watts, explained the reasoning behind the increased security, "Our market research noted that Denial of Service attacks were an increasing concern for our customers, so it was a sensible move to provide the class 5 softswitch with Session Border Control functionality built in." The SBC functions provide the SVI-C5 with comprehensive firewall security alongside state of the art Denial of Service (DOS) protection. The SVI-C5 is delivered in a dual-redundant formation, which provides carrier-grade 99.999% availability.
Another defining feature that Squire believe will benefit their customers is combining of the Class 5 with their SQL Development Kit, the SVI-SDK. Joe Williamson, Squire's Product Manager explains why, "One of the defining features of any Class 5 softswitch are the services it provides. Our SDK enables the customer to rapidly create and deploy new services, which is something we've already seen put to great use by customers working with residential services in particular."
The Class 5 Softswitch is administered through Squire's Management System, the SVI-MS, but they have also developed a new Self-Care Web Portal to enable users of the Class 5 to configure their services in a secure environment. Joe continues, "Class 5 services are all about configuration, and the feedback we've had about the portal has been unilaterally positive in that it allows for straightforward setup of all the services we offer, whilst also allowing our customers to present the portal under their own branding."
About Squire Technologies
Squire Technologies is a leading global provider of NGN, TDM and IP telecommunications products and solutions with world class installation and support services. Squire enables telecommunications companies who have previously been restricted to legacy SS7 and ISDN platforms to access VoIP networks, as well as providing signalling transfer points and protocol converters to further extend their customers' network reach.