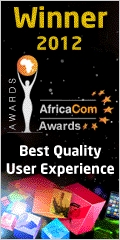 Waiting times have rapidly decreased in Orange shops equipped with Sicap ATMs
Berne, Switzerland (PRWEB UK) 23 November 2012
The success story of the ATMs deployed in Orange Cote d'Ivoire shops was instrumental in persuading the judges of their popularity. Orange Cote d'Ivoire Marketing affirms that Orange Money subscribers who use the ATMs once tend to use them for their subsequent transactions.
Indeed, sicap ATMs have revolutionised the user-experience in a market where the public has a natural apprehension to dealing with a machine rather than a person. Sicap's user-friendly design of the touch-screen interface has won customer confidence. Cash-in / cash-out operations to a mobile money account are perceived as being very simple once used.
Furthermore, the speed at which Orange Money subscribers can carry out their transaction is truly remarkable. Cash-in / cash-out operations at Orange Cote d'Ivoire shops now take less than 2 minutes, compared to a traditional waiting time of up to 2 hours in the shop queue.
Perhaps another non-negligible benefit for users is that the high-quality ATMs are capable of fault-free recognition of even the most tattered bank notes and therefore of processing cash-in transactions in very challenging environments.
Sicap's ATM Solutions offer opportunities to further enhance the customer experience by for example, prompting users who put cash into their Mobile Money account to top up their prepaid credit at the same time.
Sicap's Ms. Aleeda Fazal, Head of Mobile Commerce, said "We are proud that our attention to the user experience of our ATM Solutions has been recognised and rewarded at AfricaCom, and honoured that Orange Côte d'Ivoire has supported our nomination. Numerous deployments are underway, including our innovative "No Frills" ATM solution which promises to improve the efficiency of mobile money services. We can expect to see Sicap ATMs installed in strategic locations across the continent in 2013!"
Mr. Mamadou Bamba, CEO of Orange Côte d'Ivoire concluded that "waiting times have rapidly decreased in Orange shops equipped with Sicap ATMs. The ATMs have allowed us to multiply the number of users and also the number of transactions".