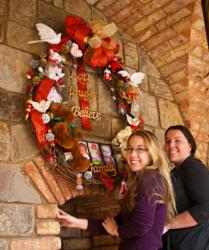 Calistoga, CA (PRWEB) November 28, 2012
Picture a meticulously recreated Napa Valley Tuscan castle; add live holiday music, Italian breads emerging from an oven in the courtyard, Baci chocolates (hazelnut kisses) transported by their own Fiat and a display of holiday wreaths made by local charities. This will be the scene on December 8 from 10:00 a.m. until 4:00 p.m. at Castello di Amorosa in Calistoga, 4045 N. St. Helena Highway.
"It is rewarding to contribute to local charities that provide essential community service," said Georg Salzner, President of Castello di Amorosa. "We are looking forward to a festive day filled with giving, great food and enticing music."
Castello di Amorosa, Dario Sattui's authentically-built, 13th century Tuscan castle and winery in Calistoga, invites the public to Holiday Wreaths for Charity. Non-profit organizations from throughout the Napa Valley will display hand-made holiday wreaths in the Castello's Courtyard. Entry costs $18 per person and includes a tasting of the Castello di Amorosa wines including Pinot Grigio; winery tours of the castle are $33/person. All of the event's proceeds will be donated to these local charities. Holiday Wreaths for Charity is open to the general public.
Live music will fill the Castello throughout the day:
10:00 – 11:00: harpist and singer Moira Greyland performs in the Courtyard
11:30: Napa Valley Youth Symphony performs in the Great Hall
12:00: The Women's Orchestra of Oakland performs in the Courtyard
2:30: The Divas, a capella singers, perform in the Great Hall
While attending the event, guests are encouraged to donate to the charities, which include:

Boys and Girls Club of Napa Valley
Calistoga Family Center
Community Action Napa Valley
Napa County Family and Foster Parent Association
Napa Valley College Foundation
Parents CAN Parent- Child Advocacy Network
The Women's Orchestra of Oakland
Volunteer Center of Napa
About Castello di Amorosa:
Following fourteen years of construction, Dario Sattui opened Castello di Amorosa in April of 2007. Situated in the hills above Calistoga, Castello di Amorosa - a family-owned business - produces world-class wines including popular white and red wines as well as proprietary Italian-inspired blends, including Il Barone, La Castellana and Il Passito. Wines are sold only at the winery. The castle winery was made with brick, wood and iron imported from Europe and combined with over 8,000 tons of local, Napa Valley stone. Today, Castello di Amorosa, a popular Napa Valley destination, offers a variety of wine tasting and winery tours in a unique Tuscan castle setting.
For more information, please visit our website: http://www.castellodiamorosa.com
For the history of Castello di Amorosa: http://www.blognapavalley.com