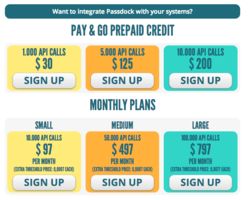 Lugano (PRWEB) November 23, 2012
As a result of the rapid increase in the number of users, Passdock has been able to obtain an improved contract with its cloud service providers. What does this mean for Passdock's clients?
The new prices are much more affordable:

Small Offer from $ 97/month (up to 10,000 API calls);
Medium Offer from $ 497/month (up to 50,000 API calls);
Large Offer of $ 797/month (up to 100,000 API calls).
The "Forever Free" option remains unchanged: anyone can access the site https://api.passdock.com/, and it's free to use Passdock tools to create and deliver an unlimited number of Passbook passes.
Also, for those who want to organise one-shot events, Passdock provides three prepaid options:
Pay & Go Small from $ 30 (up to 1,000 API calls);
Pay & Go Medium from $ 125 (up to 5,000 API calls);
Pay & Go Large from $ 200 (up to 10,000 API calls).
To make its services even more convenient for its users, Passdock has provided an extra threshold option so as to increase the flexibility of monthly payment plans. For example, if a user chooses the Small Offer, but exceeds 10,000 calls/month, he or she will only pay $0.0097 for each call.
This unique feature is fully integrated into the range of actions that are available to users who utilise the Passdock system.
What can users do with a call to the API?

Create a pass
Change a pass
Obtain a list of passes
Obtain a list of templates
Delete a pass
Delete a template
Obtain complete information about a pass
Obtain complete information about a template
Display the device on which a pass is installed
Send a message to a pass
Modify a template
On the lock screen, change the location where it will be visible
On the lock screen, change the time and date when it will be visible
Brand a pass as redeemed
Brand a pass as not redeemed
Look for a pass using its serial number
Look for a pass using its 2D code
Create a new user
Obtain the authentication key of a user
Change the images of a template or pass
Users can also obtain detailed statistics of how customers utilise passes:

Number of passes issued
Number of downloads
Number of installations
Number of views
Number of update requests
Number of uninstallations
These statistics can all be obtained at a template level, and with the hourly frequency over the last 24 hours, the daily frequency over the last 31 days and the monthly frequency over the last 12 months.
In order to communicate better with the Passdock API, users have access to the open-source sample code on github.
The complete API documentation is available on https://api.passdock.com/doc.
Finally, for customers who need dedicated solutions, specific tools for managing data in customised marketing solutions, and white-labelling with their logo, just contact the Passdock team, who have a tailor-made solution for every need.