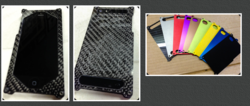 Nashville TN (PRWEB) November 23, 2012
A leading manufacturer of boutique custom iPhone 3/4/4s/5 cell phone cases as well as iPad cases, is pleased to announce the newest case material. The i5 Carbon. The company has completed the line of Apple cell phone cases with the newest edition iPhone 5 in carbon fiber as well as offering the iPhone 4 and 4s also available in Carbon Fiber.
Mimeocase offers custom engraved cases in aluminum with various finishes and colors as well as the NEW Carbon Fiber. All custom mimeocase cases are custom engraved for a truly custom and unique style for each client. Mimeocase has made custom cases for companies, individuals and music personalities around the globe.
" A few of our clients include Phil Collen of Def Leppard, Rob Bironas TN Titans kicker, Rachel Bolan bassist for Skid Row, Jason Hook of 5 Finger Death Punch, Wynonna Judd and many more." said CEO Mark Taylor. Mimeocase make our cases by hand and are entirely made 100% in the USA. "Our Pat. Pend. design and the quality are unmatched in the custom cell phone case accessory market, if you want a high end custom case with your own creation and artwork design, Mimeocase is the only case to choose."
Mimeocase began in the custom case market in January 2012 and since then have created hundreds of unique one off design for clients all over the US and world. Based in Nashville TN, the company has deep roots in the music scene both in rock and country.
Working with close friends who are also no stranger to the stage are Ryan Cook, a rock guitarist and lead singer for the band Hair of the Dog back in the 80's. "We have such a great connection with so many bands because of Ryan and his talent as a guitarist as well as his great marketing skills, there is no doubt many more bands will continue to choose mimeocase as there choice in cell phone protection as well as brand/band image". Also working closely with famed photographer Ash Newell who's ties with many bands and celebs that he shoots for is great for the fact that he uses our case and when on photo shoot location not only does it garner attention, it turns heads.
Mimeocase announced earlier this year that the production for the iPad case version 1,2 and 3 were complete and now that the i5 is done the entire Apple line up from the iPhone 3 to the iPhone 5, IPad and iPod 4th Gen are all available. We are very excited about the future for the custom case market and the ability to use the phone as a walking billboard so to speak for both companies and individuals who are looking to separate themselves from the main stream boring plain case. We create a unique work of art one at a time, for every client, hand made in the USA.
Mimeocase can be reached at Sales(at)mimeocase(dot)com and http://www.mimeocase.com