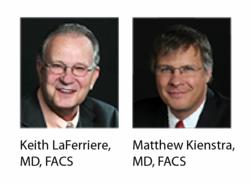 This study provides important evidence that long-term and regular-interval BBL treatments work on a molecular level to reverse skin damage
(PRWEB) November 28, 2012
According to a recent study published in the Journal of Investigative Dermatology, BroadBand Light ("BBL") treatments can bring about more than a simple cosmetic change in the skin. BBL-treated skin's more youthful appearance may actually be due to differences in patterns of gene expression that cause the skin to function more like young skin. The study utilized the same Sciton BroadBand Light technology available from Drs. Keith LaFerriere and Matthew Kienstra at Mercy Facial Plastic Surgery.
"This study provides important evidence that long-term and regular-interval BBL treatments work on a molecular level to reverse skin damage," said Keith LaFerriere, MD. "BBL is the best single treatment you can do for your skin."
Dr. LaFerriere and his colleague Matthew Kienstra, MD, both board-certified facial plastic surgeons, often recommend BBL treatment to improve the appearance of acne, sun damage, freckles, birthmarks, melisma, and broken veins and capillaries, giving the skin a vibrant and more youthful appearance.
"The results of this study corroborate the skin improvement that we have observed with our patients," Dr. Kienstra remarked. "BBL can actually bring about a functional change in the way genes are expressed to make aging skin behave more like young skin, delivering more than just cosmetic results."
The number of treatments needed varies from patient to patient, said the doctors, who personalize a treatment plan based on the level of improvement the patient desires.
"BBL produces natural-looking results," added Dr. LaFerriere. "We can't say it often enough—if it doesn't look natural, it doesn't look good."
Consultations for BBL and other non-surgical and surgical procedures can be scheduled by calling (417) 887-FACE or toll-free (881) 771-FACE.