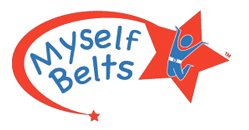 Saint Louis, MO (PRWEB) November 26, 2012
November 19, 2012. St. Louis, MO. Myself Belts, the only one-handed belt on the market, debuted a new potty training focus on its website this holiday season. Myself Belts was created when the owner's son was potty training; without the bulk of a diaper, his pants wouldn't stay up. Quickly discovering there weren't any easy-to-fasten belts for young children, Talia Bahr Goldfarb and her sister Danielle Bahr Eason invented a belt closure young children could use easily. The new potty training focus was created to help customers maneuver this challenging time while offering helpful potty training tips and tools through the website, myselfbelts.com.
During the toddler years, young children love to be independent and do things "all by themselves". Myself Belts tap into this need, by giving toddlers a chance to show off their independence. As her son was potty training, Talia stated, "he had just mastered this huge milestone of becoming potty trained and I wanted to reinforce this feeling of pride." By inventing Myself Belts, Talia and her sister extended her son's pride to thousands of children. The patented closure makes potty training easy and gives children a moment of mastery when they can fasten and unfasten their belt independently.
The Myself Belts line comes in a variety of likeable styles for toddlers. Best selling kids belt designs include Trucks, Bugs, Sports, Hearts, Flowers, and ABC's. The fun and appealing designs were created so children would want to wear their new belts and would no longer have 'droopy drawers'. Myself Belts has heard from many customers their potty training belt is a must have during the toddler and preschool years. Parents feel reassured their children won't have accidents, since they can open and close their belt easily and on their own. Often, children wait to the last minute to use the bathroom until it's too late; with the one-handed closure, opening the belt becomes a cinch for toddlers and young children.
The new Potty Training section on myselfbelts.com has information about both Potty Training Tips and Potty Training Tools. Tips about signs to look for in children regarding when they are ready to begin the potty training process are very informative. The Myself Belts team also has included their favorite products such as Kandoo wipes, rewards charts, and potty seats that complement their Potty Training Belt line. Potty training can be a very challenging time for families and Myself Belts has helped to make this transition easier for everyone.
Myself Belts sells their line of belts for toddlers, children and adults at http://www.myselfbelts.com, where they offer a variety of styles, colors, and sizes.