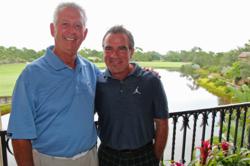 In 11 years, Celebrities for Kids has raised an estimated $1.5 million to aid local families impacted by cancer.
Jupiter, FL (PRWEB) November 23, 2012
Tico Torres, who in the '80s toured the world with the hottest arena-rock hair band of the era, will leave behind another legacy when he tees off Nov. 26 for a charity golf tournament in Hobe Sound.
Torres will co-host the Celebrities Fore Kids Golf Classic with legendary golfer Larry Laoretti, best known for winning the 1992 U.S. Senior Open and for those trademark cigars.
The Celebrities Fore Kids Golf Classic will be dedicated to its former co-host, Major League Baseball Hall-of-Famer Gary Carter. Carter, a Palm Beach Gardens resident who coached Palm Beach Atlantic University's baseball team, died in February.
Torres, whose Bon Jovi bandmates still rock – they embark next year on their "Because We Can" tour – is a notable philanthropist who has supported children's charities for years. His Tico Torres Children's Foundation has generated millions of dollars from events throughout South Florida and in his home at Admiral's Cove in Jupiter. Waterfront Properties and Club Communities Managing Partner Rob Thomson is the resident sales agent for Admiral's Cove.
"Tico will be a great fit for the tournament and will add a new element to it," spokeswoman Rebecca Seelig said.
The tournament will take place at The Medalist in Hobe Sound and will feature a slew of notable sports names. At the 2011 event, participants included baseball Hall-of-Famers Mike Schmidt and Jim Palmer, hockey Hall-of-Famers Clark Gilles and Bobby Orr and Clark Gillies, and golfers Michelle McGann, Dana Quigley, Larry Ziegler and others. Also, for most of the 11 years the tournament has taken place, Jack and Barbara Nicklaus, of Lost Tree Village in North Palm Beach, have showed their support at the awards dinner and live auction.
This year will be no different. The Nicklauses will, for the first time in the history of the event, sponsor an all-new pre-party at The Bear's Club in Jupiter. The pre party will take place Nov. 25 and will offer cocktails, hors d'oeuvres and music at the private development off Donald Ross Road. The Nicklauses again will attend the post-event festivities.
In 11 years, Celebrities for Kids has raised an estimated $1.5 million to aid local families impacted by cancer. The charity helps pay for transportation costs, prescription co-payments and daily living expenses during their time of crisis. The charity receives its referrals from social workers at the Robert and Carol Weissman Cancer Center at Stuart's Martin Health System, as well as the Pediatric Oncology Support Team in West Palm Beach.
For information about the tournament, call 772-781-7943.