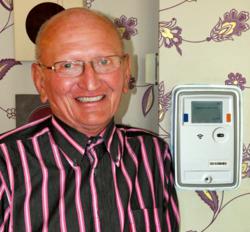 G6 provides a fair and accurate billing process for both pay-as-you-go and credit billing consumers. It is also a data collection and energy management system.
(PRWEB UK) 22 November 2012
The project is the first of its kind and size in the UK and utilises the innovative G6 EcoServe data collection and energy management technology, designed and developed by ES2.
The new G6 system provides a fair and accurate billing process for both pay-as-you-go and credit billing consumers. It incorporates an in-home display unit that lets customers see, in graphical form, how much energy they are consuming, when they are using it, how much it is costing them and how much credit they have available. This facility, which complies with the Code for Sustainable Homes, makes it easier for residents to budget and to monitor and manage their energy usage, helping them to reduce consumption and costs.
The pay-as-you-go element works much like topping up a mobile phone, using smart wireless technology to replace the traditional token-based pre-payment system.
KNH appointed ES2 in December 2011under a £1.7m contract to create a flexible energy management and payment process for its residents and provide a five-year maintenance and data administration programme for all homes connected to the community heating supply.
Because the1036 homes are spread across 28 individual schemes throughout the Kirklees borough, a traditional energy pre-payment scheme involving small numbers of residents purchasing 'credit' from local shops was not practical or viable. In addition, KNH was looking for more than a payment system; they wanted residents to be actively involved in managing their energy more efficiently - to help eradicate fuel poverty and achieve a smaller carbon footprint.
Since the roll-out of the G6 technology began 6 months ago, residents have reduced overall energy consumption by15%, but when winter consumption is factored in and residents get used to the system, KNH predicts that the annual average consumption will reduce by 30 to 50%.
"The key to reducing energy consumption is being able to see what you are using," said Barry Goodwin, KNH Project Manager. "With the economy of scale of supplying heat via a district heat network, we already provide lower cost heat, but now that residents can track how much energy they are using and are taking action to reduce consumption, annual heating bills, including winter consumption, could average £5 per week. Heating bills for a similar sized property would cost approximately 60% more if residents were purchasing gas or electricity from one of the big suppliers."
Jayne Clare, Managing Director of ENER-G Switch2 said: "The G6 has achieved a step change in visible energy management and payment. It is attracting strong interest from the social housing sector, with installations underway at other community energy schemes in Manchester, Doncaster, Wakefield, London and Scotland. We have more than 30 years experience of [metering and billing in social housing, including five previous generations of pre-payment devices, therefore, we have been able to use our intelligence in creating this cutting edge technology that meets the needs both of landlords and residents."
Ian McLellan, Kirklees Neighbourhood Housing resident, said: "I am very happy with the G6 unit, it's very cost effective and , I now know exactly how much I am spending, which is brilliant. Different variation in ways to pay is also really helpful, it's easy to use and has been explained to us really well."
Cllr Peter McBride is the cabinet member for investment and regeneration in Kirklees. He added: "Far too many people are struggling to heat their homes properly – a particular worry for our older residents. Anything that can help them manage their fuel bills and make their homes more energy efficient is to be welcomed."
ES2 remotely manages and monitors the G6 system from its customer service centre, enabling residents to flex between credit billing and pay-as-you go to suit their circumstances. Analysts continually monitor consumer data and can identify exceptional usage patterns or instances where residents frequently opt to disconnect their supply. This serves as an early warning signal that can assist scheme operators in targeting support towards vulnerable residents who may not be using the system effectively or efficiently. In a recent case ES2 identified that an elderly KNH resident's heating consumption had doubled over a 48 hour period. Staff established that he was immobile after a fall and, to the relief of his family, were able to arrange immediate localised support and assistance via the KNH team.
Previously, customers connected to community heating systems could only purchase 'credit' from designated local point-of-sale-outlets, usually local shops, which caused inconvenience and potential stigma for customers and could lead to high infrastructure costs and financial risk for scheme operators. The G6 offers many ways to pay fuel bills or purchase 'credit' , either by phone, direct debit, at a post office, online, smartphone app, or any Pay Point.
The G6 has a visual and audio notification system, including a text alert facility, to advise customers of low credit or to communicate other customer service and energy saving messages. Residents using the pay-as-you-go method benefit from an emergency credit and 'friendly disconnection' facility which prevents their supply being cut off at critical times such as evenings and weekends, or during harsh winter periods.
ENER-G can fund the cost of introducing the G6 EcoServe system, as well as any required metering, thereby taking care of the complete metering and billing service. This allows housing providers to support their residents in reducing fuel costs, without making any upfront investment. Jayne Clare explained: "Costs can be recovered slowly over a long contract period as part of a fair service charge to residents - very much like the government's Green Deal arrangement. We are so confident in our product that we will even take on the consumer debt risk, therefore allowing the landlord to concentrate on core business activities."
The technology is not just for use with community energy and multi-fuel schemes,additional meters can be connected for potable water and electricity as it has 5 data inputs. G6 uses secure wireless GPRS transmission, which simplifies installation and makes the system suitable for both new builds and retrofitsof any size, even at a micro scale. The technology avoids any requirement for an expensive building management system to be installed, or Mbus or other hardwired system, which makes it ideal for schemes that are unmetered or where a fuel switch project (from electricity to gas /CHP or renewables) could be considered.
For further information contact 0871 423 4242, http://www.energ-group.com/ener-g-switch2
.