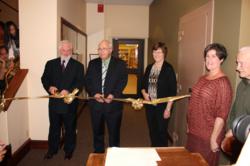 Loma Linda, Calif. (PRWEB) November 21, 2012
More than 150 people came to help celebrate the grand re-opening of the Loma Linda University Heritage Research Center on Oct. 27. Recent renovations have enlarged and improved the HRC, providing additional display and reading areas. The primary purpose of the HRC has been, from its beginning, to house and protect historical documents related to the College of Medical Evangelists and its successor, Loma Linda University; as well as serve as one of the largest repositories of literature and documents from and about the Seventh-day Adventist Church, including those from church pioneer Ellen G. White. Other important collections housed by the HRC include the Peterson Collection, acquired from the New York Public Library; the Lebowitz Collection, which has significantly increased the center's holdings in the area of Adventist history; and the congressional papers of Jerry L. Pettis, the first Adventist to serve in the U.S. Congress, as well as the papers of his wife, Shirley N. Pettis, who took over his congressional seat following his untimely death in 1975. The center, open to the public, is located on the west end of the Del E. Webb Memorial Library complex on the Loma Linda University campus. In the picture, assisting in the ribbon cutting ceremony for the re-opened HRC are (from left): LLU Provost Ronald Carter; James Nix, director of the Ellen G. White Estate in Silver Spring, Maryland, and founding HRC director; and Carlene Drake, director of university libraries.
###
About Loma Linda University (http://www.llu.edu)
Loma Linda University is a Seventh-day Adventist educational health-sciences institution with more than 4,600 students located in the Inland Empire of Southern California. Eight schools make up the University organization: Allied Health Professions, Behavioral Health, Dentistry, Medicine, Nursing, Pharmacy, Public Health, and Religion. More than 55 programs ranging from certificates of completion and associate in science degrees to doctor of philosophy and professional doctoral degrees are offered. Students from more than 80 countries around the world and virtually every state in the nation are represented in Loma Linda University's student body.