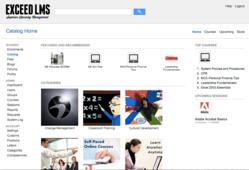 "Our partnership with Intellum allows us to better serve the diverse needs of our clients, by continuing to create a marketplace of premier solutions providers."
- Jeff DiDomenico, VP Marketing & Alliances, Valiant
Atlanta, Georgia (PRWEB) November 29, 2012
Intellum, a leader in cloud-based learning solutions, is pleased to announce the strategic partnership with Valiant Workforce Management Solutions. Valiant is an industry leader in time & attendance, scheduling, payroll, HR and business process outsourcing solutions. Through this strategic partnership, Valiant clients will gain access to Intellum's EXCEED, a world-class enterprise learning management system.
Some of EXCEED's key features include:

Tracking and notification capabilities for employee skills, qualifications, training courses, and professional certifications.
Effective management of local, state, and federal training mandates.
Mobile device compatibility for conducting training in the field.
Access to the client's own, real-world, personnel data, automatically updated on a daily basis.
Just-in-time, site-specific courseware.
Jeff DiDomenico, VP Marketing & Alliances at Valiant said: "Our partnership with Intellum allows us to better serve the diverse needs of our clients, by continuing to create a marketplace of premier solutions providers. Together, we will deliver an integrated LMS software solution for firms with 200 or more employees, including those with remote hourly, highly-compliant workforces."
Matt Gilly, Intellum's Chief Engagement Officer agreed, "We have been working with Valiant and its customers for many years informally and are very excited to announce this more formal partnership. Our approach to building software has always been, 'Do what you do best and integrate the rest.' This partnership is a great example of that philosophy in action."
About Intellum:
Intellum is a privately-held company headquartered in Atlanta, Georgia. Founded in 2000, the company has over 12 years of experience providing innovative, leading-edge software to customers of all sizes and in all industry segments. Intellum's enterprise technology solutions include EXCEED, a learning management system (LMS), and TRIBE, a secure, social collaboration tool for business.
About Valiant:
Valiant is a privately owned workforce management solutions provider. Valiant supplies comprehensive time & attendance, scheduling, payroll, HR and business process outsourcing solutions to more than 1,500 clients doing business in a wide range of markets and industries. Valiant's payroll processing exceeds $5 billion per year and its facilities and services exceed stringent audit and quality standards, including SAS70 Type II. Valiant solutions empower organizations to reduce operating costs, increase efficiency and streamline operations.