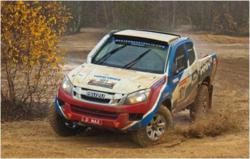 (PRWEB UK) 21 November 2012
For those who run a pick-up for their business, they may like ones like this. It would certainly attract attention to their trade.
It's been produced by the Australia-based Isuzu Motorsports International Off-Road Race Team for the 2013 Dakar Rally and is the most powerful D-Max pick-up ever to take on the event, one of the most gruelling races on earth, next January.
The pick-up is based on the underpinnings of a production Isuzu D-Max 4x4 double-cab, but has been modified to increase performance and withstand the rigours of driving more than 5,000 miles of arduous terrain, between Lima, Peru and the finish in Santiago, Chile.
It's powered by an Isuzu-developed 3.0-litre 16-valve common-rail turbo-diesel engine, producing maximum power of 242hp and 589Nm of torque. The powerplant, based on a standard Isuzu engine, is coupled to a four-wheel-drive system with a sequential five-speed Hollinger gearbox and Xtreme rally clutch.
And to protect the vehicle and its crew against rock impacts and potential accidents, the chassis is equipped with custom-built, full-length 8mm aluminium skid plates, while the steel cab body is fitted with an integrated roll-cage and carbon-fibre panels to shield the pick-up's key components.
For scrubbing off speed, Isuzu has added DBA Kangaroo Paw ventilated disc brakes with cross-drilled discs and Harrop aluminium racing callipers. The Isuzu D-Max Dakar rides on 16x7-inch ROH Trojan alloy wheels, fitted with Toyo Open Country M/T-R tyres to give maximum ground clearance when traversing the crests, dips and uncertain terrain encountered on the rally.
The modifications make the D-Max Dakar even tougher pick-up than the road-going model, with enhanced performance to match. From 0-62mph takes just seven seconds (on dirt) and top speed has been clocked as 118mph.
The Isuzu Motorsports International Off-Road Race Team enjoyed success at the 2009 Dakar event with a previous-generation D-Max, finishing as the first diesel-powered pick-up in the field.
Unfortunately, there are no plans to make a commercial version available for business van users. One can dream, though!
Keep up to date with developments in our Business Van News section.
Business Vans offers a wealth of useful information including tacographs, van MOTs and a range of reviews including Hyundai van reviews.
For more information, visit Business Vans at http://www.businessvans.co.uk/