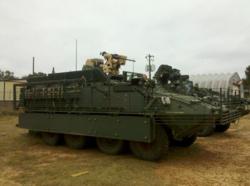 Austin, TX (PRWEB) November 26, 2012
Energy Xtreme, the market leader in idle reduction for law enforcement, EMS and work trucks, has developed a mobile energy management system (MEMS), the Stealth Power 4 (SP4), for the military. The system was designed by inventor and military specialist Lee Wheelbarger, who has been featured on the History Channel's Modern Marvels.
The SP4 MEMS received "most promising solution" status; the best out of three categories and received a "Take to War" designation at the Army Expeditionary Warrior Experiment (AEWE), Spiral G, conducted at Fort Benning, Georgia last year. AEWE results also found that the SP4 reduced generator fuel (on a 6.5 genset) consumption up to 69%, which translates into 1,000 gallons of fuel annually for a single generator. It also decreased up to 8-12 hours of tactical vehicle idle time and enabled silent watch capabilities increasing situational awareness. With fuel in theater estimated to cost between $50.00 and $500.00 per gallon, this is a savings of up to $50,000 to $500,000 per generator. The SP4 MEMS effectively eliminates wet stacking in generators, a major maintenance issue with generators and reduces the sustainment burden while contributing to the Army's priority of improving the efficiency of military energy.
More importantly, since 2003 there have been more than 3,000 uniformed US Soldiers and contractors killed while operating or protecting resupply convoys in Iraq. Approximately 30% of this protected cargo was diesel fuel for tactical generators. Based on Spiral G soldier feedback, the addition of intelligent energy storage to tactical vehicles is expected to increase survivability and will likely increase unit effectiveness.
Energy Xtreme's SP4 is a complete and versatile Mobile Energy Management System (MEMS) with 4 kilowatt-hours of integrated energy storage. The system is specifically designed for integration with U.S. military vehicles and generators. Aptly named, it has low to no thermal or acoustic signature. The clean output power can be used to power communication and weapon systems in Humvees, M-ATVs, MRAPs, and Strykers as well as other tactical vehicles. Additionally, the system is capable of hybridizing the operation of generators with auto start/stop functionality, such as the 5kW Tactical Quiet Generator (TQG). The SP4 MEMS features rapid charging capability, generator assist, and accurate state of charge indicators.
The SP4 improves tactical capabilities, including silent watch, as it provides mobile power to operate communication, weapon systems and other military equipment with little thermal or acoustic signature. It also expands mission capabilities by allowing extended operation of equipment without fuel. Additionally, it provides an emergency jumpstart in the event of a disabled or damaged vehicle battery, increasing soldier safety.
AEWE, Spiral G, conducted by the U.S. Army Test and Evaluation Command, provides capability developers, the science & technology community, and industry with a repeatable, credible, rigorous and validated operational venue in a realistic live prototype, force-on-force experiment. Focused on the soldier and small unit, AEWE Spiral G exams concepts and capabilities for the current and future force across Warfighting functions; the Spiral G Infantry Company Experimental Force consisted of live and simulated forces facing a hybrid threat in a Southwest Asia scenario across distributed battle space.
###
Energy Xtreme, headquartered in Austin TX., is a mobile electric power company focused on developing intelligent power management systems with idle reduction capabilities. Named by Forbes as one of the most promising companies of 2012, we are dedicated to empowering fleet management and driving cost efficiency. Our award winning Independence Package® line of products provide unmatched mobile electric power for a vehicle's electrical needs, including lights, cameras, computers, power tools and hydraulic systems, without engaging the vehicle's engine. Our products have proven to help fleets significantly lower their fuel and maintenance costs while reducing emissions. Energy Xtreme's future-focused solutions are ideal for fleets in law enforcement, military, transportation, public works, telecom, utilities, oil and gas and work truck centric organizations. Additional information is available at http://www.energyxtreme.net . Follow us on Twitter@EnergyXtreme.