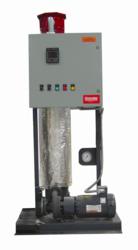 Pittsburgh, PA (PRWEB) November 27, 2012
Chromalox®, a leading manufacturer of electric heat and control products, has introduced a Mid-Size Water/Glycol System, model MWS. The MWS is engineered to operate up to 300˚F (150˚C) with either water or water/glycol fluids. Its electric heating core assures responsive and precise temperature control in a space saving package. The system has a compact design and is suitable for a large range of heating needs.
Chromalox MWS systems are ruggedly constructed for industrial applications. The heavy-duty, steel support base features channel grooves for forklift transport. The heater chamber is fully welded and houses Chromalox brand, long-lasting heating elements. The panel is fully UL-listed and assembled in-house. The pump is air-cooled with a mechanical seal, rated to 300˚F (150˚C). The final assembly is fully-shop tested prior to shipment.
Chromalox MWS system is perfectly suited for applications such as reactors, evaporators, dryers, platen presses, heat exchangers, roll heating, or any jacketed kettles / vessels / tanks. Hot water systems can be used in a variety of industries such as chemical, plastics, cosmetics, automotive, rubber, refining, pharmaceutical, non-woven / textiles/ fibers, aerospace, or any other industrial market.
To download a high resolution photo of this product, click here: http://www.chromalox.com/content/news/images/MOS.jpg
For more information, visit http://www.chromalox.com/productcatalog/Industrial+Heating+Products+and+Systems/Heat+Transfer+System/Water+Heat+Transfer+Systems/MWS/model-details.aspx?m=5007
About Chromalox, Inc.
For nearly a century, customers have relied on Chromalox for the utmost in quality and innovative solutions for commercial and industrial heating applications. Chromalox manufactures the world's largest and broadest line of electric heat and control products, including heating components, immersion heaters, circulation systems, heat transfer systems, boilers, industrial and comfort air heating, heat trace cables, sensors and precision electronic controls. With multiple manufacturing, engineering, warehousing and sales locations throughout North America, Europe and Asia, Chromalox is a global supplier providing the highest level of customer support. Chromalox is headquartered in Pittsburgh, PA.