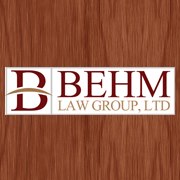 Stephen is one of the brightest bankruptcy minds in the State of Minnesota. His reputation is impeccable, and his integrity unmatched.
Mankato, MN (PRWEB) November 23, 2012
Minnesota bankruptcy claims reached an all-time high in 2010, with over 22,000 claims filed (source: United States Bankruptcy Court, District of Minnesota). Although there has been a slight decrease in the past year and a half, bankruptcy claims remain alarmingly high.
Behm is a leader in Bankruptcy Law and has dedicated his career to guiding his clients through the bankruptcy process with as little disruption as possible, and helping them get a fresh start in controlling and rebuilding their financial life. In January 2012, Behm opened the doors of his law firm in Mankato, MN to focus exclusively on bankruptcy matters in Southern Minnesota. Behm's focus on bankruptcy allows him to stay current with any recent local and national news or legislation governing bankruptcy, serving as an expert for his clients.
Behm is a Consumer Bankruptcy Specialist certified by the American Board of Certification, a nonprofit organization sponsored by the American Bankruptcy Institute and Commercial Law League of America. Behm is accredited by both the American Bar Association and the Minnesota State Board of Legal Certification, and is a graduate of Max Gardner's Bankruptcy Camp, an intensive, exclusive school for experienced bankruptcy practitioners.
Behm earned his Juris Doctor from the University Of North Dakota School Of Law in 1995, and in 1996 he was admitted to the Minnesota Courts and to the United States District Court, District of Minnesota. Since 1996, Behm has been advocating for the enforcement of consumer rights under the Truth in Lending Act (TILA), Fair Credit Reporting Act (FCRA), and the Real Estate Settlement Procedures Act (RESPA). Behm has also served as a mentor for New Focus Budgeting Group, an interfaith group of professionals who assist people with budgeting and financial problems outside of the bankruptcy process.
Behm is hailed by both clients and colleagues as extremely knowledgeable and experienced. According to a recent client who has hired Behm on more than one occasion, "Stephen is one of the brightest bankruptcy minds in the State of Minnesota. His reputation is impeccable, and his integrity unmatched."
About Behm Law Group, LTD
Behm Law Group is the only law firm in south central and southwestern Minnesota that practices exclusively in bankruptcy. Their office is located in Mankato, Minnesota, and they serve Mankato and all of Southern Minnesota, including the cities of Marshall, Worthington, Owatonna, New Ulm, Windom, Jackson, St. Peter, Redwood Falls, Waseca, Le Sueur, Le Center, Luverne, Pipestone and Fairmont. For additional information about Behm Law Group's services, or to get the latest in bankruptcy news, visit http://www.mankatobankruptcy.com.