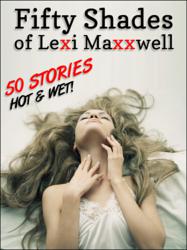 I can't think of a better way to say thank you for what a great year I've had so far as Lexi.
Las Vegas, Nevada (PRWEB) November 23, 2012
Reader loved erotica writer, Lexi Maxxwell, is offering her critical smash, "50 Shades of Lexi Maxxwell" for free, from Friday, November 23 through Sunday November 25. The title currently sits at #9 on Amazon's Top 100 Best Reviewed Erotica Titles.
After a remarkable first year as an erotica writer and publisher, Lexi wants to thank her audience and earn new readers by giving her best reviewed, and biggest selling title a shot at free over Black Friday weekend.
"I love that Amazon gives authors like me the chance to reach so many readers I never would have been able to meet otherwise, by using the KDP Select platform. It's a great time to be a writer, thanks mostly to Amazon!"
Amazon's KDP Select program allows writers to enroll their title into Amazon's exclusive program. In exchange for keeping your book exclusive to Amazon, writers can offer their book as part of the lending library, but more importantly, they can offer their title free, for five days out of every 90.
"I don't know what I would do without KDP Select," Maxxwell said. "It's allowed me to find most of my new readers. I have more weekly readers now than most authors get after years of hard work, and I've only been publishing since January. I credit almost all of this to Amazon in general, and KDP Select specifically."
After releasing short stories each week since January, Maxxwell found that she had a surplus by September. That's when she first thought of the idea of gathering many of her previously released shorts, and putting them together in a single bargain priced volume. "50 Shades of Maxxwell" has 50 stories, and is regularly priced at $9.99, or just .20 per story.
"I can't think of a better way to say thank you for what a great year I've had so far as Lexi. I've written a ton of short stories this year, and as I move into longer series work and novels, I'm thrilled to know so many women out there are 'enjoying' my shorter stories. It makes me want to write even more!"
Lexi's first full novel, "Bitten," comes out on Friday, November 30, and is a massive departure from he normal short form.
"I've pushed the short pretty far in 2012, and I was eager to try my hand at the novel. I'm thrilled with the results. If readers like it, I'm going right back to the desk and writing another one!"
For readers who love quality erotica in short bursts, there is no better title currently on Amazon's Top 100 Erotica list than Lexi's, "50 Shades of Lexi Maxxwell." And readers who would like to read it for free can enjoy it this Black Friday weekend.