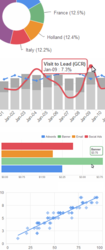 Ottawa, Canada (PRWEB) November 23, 2012
Klipfolio Inc. today announced the latest release of its web and mobile dashboard. At the forefront of this release is the enhancement and expansion of the chart data visualization, including the addition of Scatter Plots. The Bar / Line chart visualization has received dozens of new features that allow users to fully customize their charts using this KPI template.
The release added key features to the chart visualization including the ability add multiple Y axes to the chart, invert existing axes, and adjust the appearance of each series on the chart. The Pie chart visualization was expanded to include tooltips on the dashboard and a new chart style. In addition to these enhancements, Klipfolio also unveiled the new Scatter Plot component that allows users to plot two sets of related values on a chart and then draw a regression line.
Here are some of the features users can expect to see the next time they log into app.klipfolio.com:

Tooltips now show values for all chart types (Scatter Plots, Bar/Line, Pie charts).
Add multiple Y-axes to the chart.
Dozens of new customizations for line visualizations.
New data source support: UserVoice and Podio
New visualization: Scatter Plot
What is Klipfolio Dashboard for web and mobile?
Klipfolio Dashboard is a web and mobile dashboard that is focused on the real-time visibility of operational data. Klipfolio Dashboard web and mobile can connect to virtually any data source making it a logical choice for any department or organization. Klipfolio Dashboard represents the next step in the evolution of operational BI dashboards, combining a state of the art self-service platform with the agility of the cloud and mobile devices.