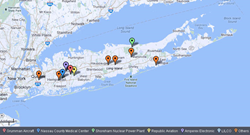 It is important that the residents of Nassau and Suffolk Counties be able to keep their cases close to home. This allows their cases to be tried before jurors that live on Long Island, and before Long Island judges.
New York, NY (PRWEB) November 27, 2012
According to Carmen St. George, a New York mesothelioma attorney at Levy Phillips & Konigsberg LLP ("LPK"), a nationwide asbestos litigation law firm with offices in New York, New Jersey, and Georgia, the firm sees a steady growth of its asbestos practice in Nassau County and Suffolk County of Long Island. More residents of these counties who are suffering from mesothelioma, a rare, terminal cancer caused by exposure to asbestos, or families whose loved one was diagnosed or died from the cancer are seeking help of the lawyers at LPK, who, for the last 25-plus years, has earned the reputation of a leader in asbestos litigation both in New York and across the United States.
Unfortunately for many thousands of Americans who have been or will be exposed to this deadly carcinogen, asbestos was widely used in various industries through at least the early 1980s, due to its fire retardant properties and its ability to withstand high heat applications. Those at risk of developing asbestos-related illnesses include people who have ever worked with or around asbestos-containing insulation, piping, electrical equipment, plumbing, and friction materials.
Asbestos exposure has long been a concern among Long Islanders, particularly due to the fact that many of them have been employed by a wide range of environmental, construction, industrial, and aviation companies throughout Long Island. In addition, Nassau and Suffolk Counties is the home of thousands of veterans who were exposed to asbestos while honorably serving in our armed forces. As per a national study, around 30% of all diagnosed with mesothelioma in the USA are our military veterans, most of whom served in the US Navy.
Carmen St. George shares a map (see Figure 1) of some of the most common asbestos exposure sites within Nassau and Suffolk Counties including:

Grumman Aircraft Engineering Corp. - Bethpage, NY;
Nassau Coliseum - Uniondale, NY;
Long Island Railroad (LIRR) - Jamaica, NY;
Shoreham Nuclear Power Plant - East Shoreham, NY;
Brookhaven National Laboratory - Upton, NY;
Richard M. Flynn Power Plant - Holtsville, NY;
Francis S. Gabreski Airport - Westhampton Beach, NY;
Amperex Electronic Corporation - Hicksville, NY;
FAA's Control Center at MacArthur Airport - Ronkonkoma, NY;
LILCO - Hicksville, NY;
Nassau County Medical Center - East Meadow, NY;
Republic Aviation Corp - Farmingdale, NY.
"Long Islanders can confidently entrust their asbestos cases to a firm that will competently and valiantly prosecute them in the Courts of Nassau and Suffolk Counties," said Carmen St. George. "It is important that the residents of Nassau and Suffolk Counties be able to keep their cases close to home. This allows their cases to be tried before jurors that live on Long Island, and before Long Island judges. As a Long Island resident, I am proud to be able to provide personalized legal service to the residents of Nassau and Suffolk County," added St. George.
Workers at industrial and construction sites throughout New York and other states were heavily exposed to asbestos that was used in products manufactured throughout most of the 20th century. As a result, not only did these workers develop mesothelioma and other asbestos-related diseases, but, in many cases, their wives and children did as well by virtue of being exposed to the asbestos dust that was on their husband's and father's clothing when they came home from work.
Mesothelioma is an asbestos-related cancer that occurs most commonly in the pleura or peritoneum that line the lungs and abdominal cavities, respectively. The disease occurs after a "latency period" of many decades which explains why many people exposed to asbestos are diagnosed with mesothelioma many decades after the exposure itself occurs.
If you or your family member has been diagnosed with mesothelioma, you should get in touch with a mesothelioma lawyer at LPK as early as possible to determine if you have a case. For a free consultation, please call our 24/7 toll-free hotline at 1-800-MESO-LAW (1-800-637-6529) or submit an email inquiry at http://www.levylaw.com.