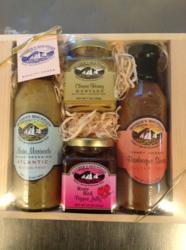 Falmouth, ME (PRWEB) November 21, 2012
Mother's Mountain, a family owned and operated natural food business in Maine, recently extended an invitation to the public to attend an upcoming Mother's Mountain presentation at Whole Foods Market. Mother's Mountain is hosting several demos during the holiday season, giving participants great ideas for tasty, healthful meals and elegant holiday gifts.
On November 29th, Mother's Mountain will feature marinades and salad dressings. Mother's Mountain will showcase their jams and pepper jellies on December 6, 2012. On December 13th, Susan from Mother's Mountain will present their mustards, pepper sauces and barbecue sauce. December 20th features jams, marinades and salad dressings, and December 28th is all about jams and pepper jellies. All demos will be held from 3:00 p.m. until 6:00 p.m.
"We really enjoy meeting the folks that come out to Whole Foods," said Carol Tanner, owner of Mother's Mountain. "We are spreading the word about Mother's Mountain one taste at a time and love introducing our delicious natural foods to customers, who really appreciate the healthy old family recipes and slow cooking that are the hallmark of our products. We especially love hearing the wonderful stories of how people have incorporated our products into their favorite recipes."
In addition to their homespun artisan condiments, Mother's Mountain loves opportunities to give back to the community. The family business recently assisted with fundraising efforts for Project Graduation in Falmouth, Cumberland's high school ski team and several other local school programs and activities.
For over 30 years, Mother's Mountain has crafted quality, all natural condiments and sauces from their home on the coast of Maine. For complete information about Mother's Mountain products, including holiday gift ideas, visit their newly updated website at http://www.mothersmountain.com.
About the company:
Mother's Mountain was and continues to be All Natural, Gluten Free and Salt Free! Pioneering Maine Specialty Foods since 1982 a commitment was made to use the best natural ingredients to make her mother's 1930 original honey mustard. The company that began in 1982 with one honey mustard recipe has grown into a quintessential family business offering over 30 beloved specialty products. Mother's Mountain can be found at fine gourmet stores throughout Maine and New England, at Whole Foods, Hannaford and Shaw's. And yes, the home telephone number is still on every jar! For more information visit their website at http://mothersmountain.com.