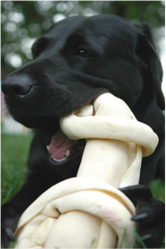 Hampshire, IL (PRWEB) November 27, 2012
Throughout the holiday season, the pet product manufacturing company PetAg will work on educating dog owners everywhere on the health and safety benefits of Chunky Chews® and Rawhide Brand® Chews for their beloved pet. By providing a free downloadable report, PetAg will educate all owners on the differences between other rawhide products and the long lasting Chunky Chews and Rawhide Brand chews as the holidays sneak up on us.
According to a survey done by Petfinder.com, 64% of dog owners give their pets presents at Christmas, helping Americans spend nearly $5 billion on holiday presents for their pets. Therefore, with all of the fun, delicious holiday treats that will be given this upcoming holiday season, it became clear to PetAg how important it is to help dog owners make a safe and healthy gift purchase for their furry friends.
Important attributes that set Chunky Chews and Rawhide Brand Chews apart from other rawhide options is the patented Safety-Knot® bone design, guaranteed to slow down the chewing process and last longer than the average chew, giving both dogs and owners an excellent value. Other intricately hand formed shapes contain more beef-hide per square inch and are very challenging to deconstruct, offering many hours of chewing pleasure. The patented delivery of flavors and nutrients also make a big difference. These chews are made with the highest quality Brazilian free-range, grass-fed beef-hide that is antibiotic and hormone free. Not only does PetAg want to inform owners on the value of Chunky Chews and Rawhide Brand chews, but also on the safety of all dogs using rawhide chews. All dogs vary in size and weight, and therefore require different sized chews. A simple chart in the report will help owners identify which size rawhide to purchase for the health and safety of their pet. Visit the PetAg Facebook page to be a part of the Chunky Chew and Rawhide Brand conversation and to learn more.
PetAg Inc. acquired Rawhide Brand in 1991, and after more than 20 years experience with Rawhide Brand Chews, the company is making it easier than ever to acquire not only these rawhide products, but all the educational information an owner needs to ensure quality health and care for their dog. Besides easy access to the downloadable report, dog owners can also purchase the Original Rawhide Brand and Chunky Chew products directly off the PetAg website. The Eco-Friendly biodegradable mesh packs make great gifts for the holidays as do all Chunky Chew items, for big dogs and aggressive chewers.
About
PetAg, Inc is a leader in pet product development and manufacturing. Based in Hampshire, Illinois, they offer innovative health and wellness products to pet owners, veterinarians and other professionals caring for animals. They continue to introduce nutrition solutions for pets, small animals, horses, poultry, swine, cattle, reptiles, birds and zoo animals.
For more information on PetAg please contact Katie Herum at Katie(at)randrmgmt(dot)com or by phone at 715.222.1228. Users may visit the PetAg website at http://www.petag.com/.