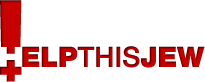 HelpThisJew.com is ideal for helping take the black out of Friday and replacing it with the warm glow that is Sabbath
New York, NY (PRWEB) November 22, 2012
It's known as the single busiest, most anticipated shopping day of the year—the bellwether for predicting holiday sales and hence a key economic indicator. Yet if a recently launched website has its way, 'Black Friday" will become a thing of the past.
It's important to understand that the Black Friday being targeted by HelpThisJew.com is not the one that has people camping out at Wal-Mart, Target etc. The Black Friday they're targeting is based on a term which describes how one feels on Friday when they know there are no funds with which to celebrate the Sabbath.
While Sabbath is described as a day of rest, it quickly becomes a lot less restful when one lacks the funds to properly prepare for it. This replaces the "anticipatory" excitement of Friday—the Sabbath eve, with a black dread that's casts a pall on the spirit of the day in many cases on the upcoming week as well.
To knowingly sit by and allow this kind of Black Friday to go on is unacceptable. The goal of our Zero Tolerance policy is to eliminate Black Fridays for families and individuals forced to deal with it" said a spokesperson for HelpThisJew.com.
"From a fundraising perspective, few groups are better poised to turn those words into reality, as the unique crowd sourcing/micro-funding model that defines HelpThisJew.com is ideal for helping take the black out of Friday and replacing it with the warm glow that is Sabbath." said a spokesperson for the group.
"Between the economy and more recently the ravages of Sandy, much of the giving has been focused on 'big needs" . What this has created is a situation where those living check to check or those waiting for a disbursement from a FEMA or a social services organization are suddenly caught between keeping the rent and utilities paid and keeping food on the table. Something has to unfortunately give and that's where we come in." he pointed out.
Because anyone posted on HelpThisJew.com is first vetted by a Rabbi or community leader donors can be assured their monies are indeed going where they'll do the most good "We're not about someone upset because their collection of Israeli wines got ruined during Sandy and they can't afford to replace it. We're about people who can't afford, to buy or replace the basics like. Challahs, meat, fish, Sabbath clothes, candles, etc. With everyone focused on the bigger and in many cases more urgent needs, these people find themselves looking at a truly "Black Friday"—and in many cases it's unfortunately more than just once a year"
Our Zero Tolerance policy isn't just about pointing out the problem but also about offering our services as the solution. We're looking to make sure Black Friday remains a once a year event that's eagerly anticipated …not a weekly one that's' dreaded.
Individuals interested in joining the crusade to eliminate Black Friday—or utilizing the services of Help This Jew, should visit the website http://www.HELPTHISJEW.com for more information.
ABOUT HELPTHISJEW.com: Help This Jew.com was founded & funded by individuals who realized that while most people inherently want to help, the "new normal" dictates the need for a better understanding of how contributions will actually effect change for the recipient. This more direct linkage between donor & recipient is called "Granular Giving" because it works with local lay leaders & rabbis (who must vet any potential recipient) to provide an unprecedented level of 'granularity" (detail) as well as accountability. Help This Jew is a certified Non-Profit and not affiliated with any other organization. For more information please contact: Head Helper: Jay Mayer, ymayer(at)HelpThisJew(dot)com, Associate Head Helper, Hadas Benyacov, hadas(at)HelpThisJew(dot)com or Sam Ash via notthemusicstore(at)gmail(dot)com