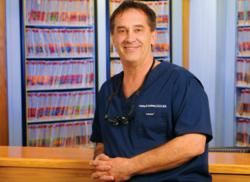 Bradenton, FL (PRWEB) November 25, 2012
Lindsay B. Eastman, DDS, MS, PA, now uses Oral DNA testing to gather important information about what is going on in the mouths of his patients. This helps him to create more effective plans for treating periodontal disease based on the individual needs of each patient. The DNA test is quite simple and takes less than a minute to complete. The sample is sent to the Oral DNA Labs to be tested and then a lab report is sent back to the dentist. The information gathered can help Dr. Eastman treat patients before problems might otherwise be diagnosed.
It is estimated that over 100 million Americans have gum disease, but because if often causes little pain in the early stages, it can go undetected until it is causing serious problems such as gum recession, bone loss, or even tooth loss. By participating in a DNA test, a patient's individual bacteria levels can be determined. This can alert the periodontist to problems before they are seen or felt by the patient. Early treatment can reduce the impact of gum disease and reduce recession and bone loss.
Another important aspect of early treatment is the fact that periodontal disease has been linked to many serious health issues such as heart disease, low birth-weight babies and pancreatic cancer, just to name a few. Because one's dental health affects one's overall health, treating gum disease before it gets out of control can help to reduce the incidence of other serious health complications.
Oral DNA testing takes just about 30 seconds from start to finish, and the patient only needs to rinse a sterile saline solution through their mouth. The sample is sent to the lab and the results are returned to the dentist. This allows the dentist and patient to work together on an individualized treatment plan. More information on periodontal disease and Oral DNA testing can be found at http://www.bradenton-periodontist.com.
Lindsay B. Eastman, DDS, MS, PA is a periodontist offering patients personalized dental care for Bradenton, FL since 1980. Dr. Eastman received his Doctor of Dental Surgery degree from Loyola University Dental School where he completed his Graduate training in Periodontics and his Masters of Science in Oral Biology. He received his Post-Graduate specialty training in Surgical Placement of Implants from Northwestern University Dental School, and completed Business Management Training from Pride Institute. He is part of one percent of dental professionals providing the most recent FDA cleared laser procedure for gum disease and periodontal treatment. To learn more about Dr. Eastman and his dental services visit his website at http://www.bradenton-periodontist.com and call (941) 792-3899.