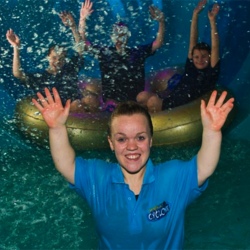 (PRWEB UK) 22 November 2012
Fresh from her triumph at the London Paralympic Games, Ellie Simmonds returns to Center Parcs Elveden Forest, where she first learnt to swim, to launch the new Tropical Cyclone™ water ride.
Celebrating today's opening of the £4 million family water ride, Ellie experienced the Tropical Cyclone™ in a special edition 'gold' raft, created to celebrate her success at the place where it all began.
The world-first Tropical Cyclone™ sees two award-winning water rides, joined together for the very first time. Families staying at Center Parcs Elveden Forest in Suffolk, can experience a series of exciting twists, turns and drops in a four-person clover-shaped raft reaching speeds of up to 30mph.
Ellie comments, "Center Parcs Elveden Forest was where I first learnt to swim so it's a really special place for me and my family. The new water ride is amazing and the drop really gets your pulse racing. I have lots of memories here at Center Parcs so it's great to be part of the opening."
Tropical Cyclone™ Facts and Figures:

Riders will experience this unique ride as a family in a four-person clover-shaped raft
Riders will reach speeds of up to 30mph
The Tropical Cyclone spans over 200 metres in length
The water ride can take up to 720 rafters per hour – that's 12 per minute
The water flow reaches 25,000 litres per minute
The water temperature inside the ride is a tropical 30 degrees Celsius
The top of the water ride stands at 18m tall - that's the equivalent height of an English oak tree
Tropical Cyclone™ opens today for families staying at Center Parcs Elveden Forest. In addition to the new water ride, a new child-friendly, family Lagoon Pool also opens at Center Parcs Elveden Forest today. These exciting additions are part of a long-term investment into the Subtropical Swimming Paradises at all four Center Parcs locations.
For more information and to view the Tropical Cyclone™ video visit http://www.centerparcs.co.uk/tropicalcyclone or http://www.facebook.com/CenterparcsUK or #TropicalCyclone
-Ends-
Notes to Editors:
For more information, please contact the Center Parcs press office team:
0207 025 6665 / centerparcspressoffice(at)redconsultancy(dot)com
Tropical Cyclone™ further information:
1. The world-first Tropical Cyclone™ sees two award-winning water rides, the TORNADOTM and the BehemothBOWLTM joined together for the very first time
2. The water ride has a height restriction of 1.2 metres
Center Parcs further information:
1. The four locations across the UK are Sherwood Forest (Nottinghamshire), Elveden Forest (Suffolk), Longleat Forest (Wiltshire) and Whinfell Forest, (Cumbria)
2. Center Parcs celebrates its 25th year in 2012
3. Center Parcs has been awarded the following accolades since 2008: the Green Business Award for Biodiversity Protection, Visit Britain 5 Star Rating, Hospitality Assured, Tommy Award for Best UK Holiday Provider, Biodiversity Benchmark - Land Management, Carbon Trust Standard, Good Spa Guide Award, ISO14001, Investors in People
4. Since 2011 Center Parcs experienced an average annual occupancy of 97%
5. Center Parcs offers short breaks all year round and welcomes over 1.6 million guests each year, 96% of guests expressing an intention to return