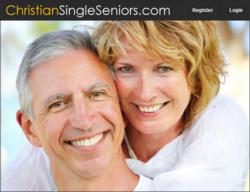 the holiday season is one of the most popular times of the year for mature Christians to take the leap into online dating
Torrance, California (PRWEB) November 23, 2012
The holidays may be stressful, but they're a great time for senior singles to try out online dating, according to senior dating site ChristianSingleSeniors.com. The site, which sees a dramatic increase in signups during the holiday period every year, reminds senior singles that more people look for a life partner during the holidays than ever before.
Despite the often hectic nature of the holiday season, senior singles still find time to focus on finding true love, according to ChristianSingleSeniors.com. The site, part of a dating network in business since the late 1990s, has noticed an increase in signups in late November and December for the past several years. In fact, the holiday season is one of the most popular times of the year for mature Christians to take the leap into online dating, say site representatives.
"There's something about the holiday season that makes people long more than ever for long-term companionship and love," said company representative Olga Wright. "Seeing couples in long-term relationships holding hands and laughing at holiday get-togethers inspires single seniors to try out online dating to find love for themselves. It's no wonder our signups jump so much during the holiday season."
ChristianSingleSeniors.com reminds senior singles to embrace the warmth of the season and stay hopeful. "The holidays are a time to rejoice not despair," said Wright. "We ask single seniors to consider how many people sign up during the holidays and to give online dating a try."
About ChristianSingleSeniors.com
Part of a leading Christian dating network established in 1997, ChristianSingleSeniors.com is unique in its approach: all of its members are committed to seeking out long-term, faithful relationships. Unlike most dating sites, this senior dating service does not allow casual dating. The sites of this Christian online dating community have gained great popularity and are frequented by Christians from all over the world. An approved member of the BBB online Reliability Program, Christian Singles Commitments Corp is committed to providing safe and secure online dating.