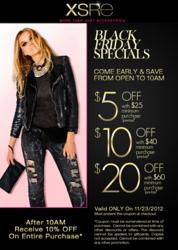 New York, NY (PRWEB) November 22, 2012
XSRE announced its Black Friday Specials and grand opening events happening on November 23, 2012. Last week, XSRE opened its doors at Crossgates Mall in Albany, New York. On Black Friday, holiday shoppers can visit two more XSRE stores celebrating their grand openings: XSRE at Woodbridge Center in Woodbridge, New Jersey and XSRE at Destiny USA in Syracuse, New York.
In addition to the new store openings, XSRE is providing early bird shoppers with a coupon for major savings at all XSRE locations. With the coupon, guests can save $5 off of a $25 purchase, $10 off of a $40 purchase and $20 off of a minimum purchase of $60 before 10 am. After 10 am, Black Friday shoppers can save 10 percent off of their total purchases with the coupon. The coupon can be found here: http://www.xsre.com/uploads/blackfriday_email.pdf
Sam Dushey, founder and CEO of XSRE, said, "Not only are we opening our doors early at XSRE for eager Black Friday shoppers, we are also opening two new stores. We have the perfect gifts and stocking stuffers for all fashion lovers on your holiday lists. Early shoppers in search of the best deals can even enjoy the savings on gifts for themselves!"
XSRE is known for its high-quality fashion accessories that are offered at affordable prices. These Black Friday specials provide guests with additional ways to save while they shop.
To find an XSRE store near you, visit: http://www.xsre.com/our-stores.php
About XSRE
XSRE provides an extraordinary collection of trendy accessories, shoes and clothing for women of all ages in a unique shopping environment. Whether shoppers are looking for that classic staple or a stunning statement-making piece, XSRE has it all. XSRE has six locations and is opening two additional stores in December.