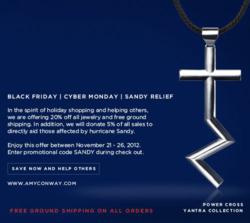 You are love. Pass it on.
Santa Fe, NM (PRWEB) November 23, 2012
Amy Conway announces new styles to her jewelry collection, Yantra. The new styles feature pendants, earrings, and even a slimmer cuff designed for men. There is one piece in particular, The Power Cross, that exudes an edgier side of the designer. The Yantra collection is the third collection designed by Amy Conway and follows Simple Truth and Magic Happens. The Yantra collection is inspired by ancient art forms called yantras used in India as a meditation tool for self-transcendence. Amy uses the age-old symbols of triangles, squares, circles and lines in a contemporary design providing a portal into our inner wisdom.
Free shipping is currently available at http://www.amyconway.com and from November 21- 26, 2012, you can receive 20% off of all jewelry and 5% will be donated to directly aid those affected by hurricane Sandy.
About Amy Conway
Artist, philanthropist, and Doctor of Oriental Medicine, Amy Conway launched her jewelry collection in 2010. Incorporating words from her inspirational poems and images from her paintings into her designs, every piece of Amy Conway jewelry celebrates the splendor and richness of life. A global explorer who calls Santa Fe home, Amy has honed her eye for color, texture and design during her travels throughout Europe, Mexico, India, Africa and Australia. Growing up by the ocean in California and settling in the New Mexico desert has instilled in Amy her passion for the earth and its beauty. A second home in Florence, the cultural mecca of Italy, further cultivated her reverence for artistic tradition.
About The Collections
All collections by Amy Conway are handcrafted with sterling silver and specific styles are handset with semi-precious gemstones. Most pieces are also inscribed with lines from her poetry. For more information, please visit http://www.amyconway.com.
Love Truly Matters Foundation
As part of Amy's vision, she established a foundation, Love Truly Matters, using proceeds from her work to fund organizations that empower women and girls throughout the world. For more information, please visit http://www.amyconway.com.
###
Contact
To learn more about the Amy Conway Collections or her Foundation, please contact:
1012 Marquez Place Ste 103A
Santa Fe, NM 87505
Office: (505) 992-1041
Fax: (505) 988-1301
info(at)amyconway(dot)com