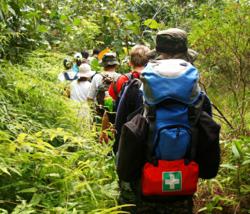 (PRWEB) November 22, 2012
Yoplait and the General Mills Foundation continued their commitment to communities by presenting Eagle Village with a $5000 grant on October 22, 2012. These grant funds will be used in the Intervention Services programs for providing youth with nutritious meals and education for making healthy choices. In addition, this funding will support the purchase of supplies for outdoor physical activities such as canoeing, backpacking and camping.
Violet Moore, CAC Chair of Yoplait shared "The Community Action Council of Yoplait Reed City in accordance with General Mills Foundation, General Mills, Inc. is happy to include Eagle Village as one of the grant recipients for this year. Eagle Village has been a great contributor to the community for many years and makes a difference in the life of children every day. This organization focuses on childhood Health and Wellness as part of their holistic program for youth. Health and Wellness are key focus areas for the General Mills Foundation. "
Intervention Services at Eagle Village are available for families seeking help during challenging times. Teenagers that are running away, truant from school, making poor life choices regarding peer pressure, substances or behaviors would benefit from these programs.
Craig Weidner, Advancement Director at Eagle Village commented, "In addition to providing a safe environment for young people to work through challenges and a forum for families to find answers together, Eagle Village teaches good decision-making that will last a life-time."
Eagle Village is a non-profit agency providing Intervention Services, Residential Treatment, Foster Care, Adoption Services and Camps for all counties in Michigan. If you know of a family in crisis that may benefit from these programs contact Eagle Village at 231-832-2234. http://www.eaglevillage.org