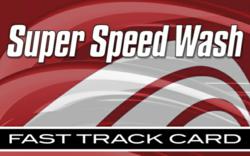 $50 in wash value for only $35 at Super Speed Wash
Nashville, Tenn (PRWEB) November 23, 2012
Super Speed Wash, a Middle Tennessee exterior express carwash company, is offering discounted $50 "Fast Track" gift cards for only $35 between now and Christmas.
At 30% off regular wash price, these gift cards make great stocking stuffers for everyone. Fast Track gift cards are convenient, easy to use, and can be reloaded with additional value at any Super Speed Wash location or online.
Dad may not need another tie or another pair of black socks this year, but we bet he'd love a clean car. Whether he's a fan of the Clean Car wash, The Wheel Deal or our Total Protection wash, he'll love using his Fast Track gift card. It's the gift that keeps on giving!
And what busy mom wouldn't like the gift of a clean car? Our high-powered FREE vacuums pull cereal out of the deepest crevices between the back seats, while our premium soaps and polishes keep your car looking its best -- whether you're waiting in the pick-up line at school or taking it out for a night on the town.
While you're out cruising the malls in search of great deals on Black Friday, swing through any of our 10 Super Speed Wash locations throughout Middle Tennessee to clean your ride and pick up a stocking stuffer for the car lover in your family.
About Super Speed Wash
Super Speed Wash's automatic car washes use premium soaps, polishes and waxes — including Armor All®, Turtle Wax® and Rain-X® products. The soft cloth in our exterior express tunnels is a combination of Neoglide and microfiber, both of which are engineered to clean thoroughly while treating your car's finish with the utmost care. We rinse your car with reverse-osmosis filtered water, which ensures a shiny finish, free of hard-water spotting.
Super Speed Wash car wash consulting can help you build a Better, Faster, Cheaper exterior express car wash in your market today! Click here to learn more or give us a call at 615-425-0734 to learn more.