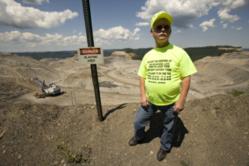 "We are the Keepers of the Mountains. Love them or leave them, just don't destroy them." Larry Gibson
Charleston, WV (PRWEB) November 27, 2012
Keeper of the Mountains Foundation (KOTM) is announcing today a series of personnel changes intended to insure that Larry Gibson's dream of empowering mountain communities and ending mountaintop removal is realized. KOTM has added three new members to the Board of Directors: Larry's wife, Carol Gibson, Paul Corbit Brown and Victoria Gibson Hudson. Carol was closer to Larry than all of us put together, and is in a unique position to help us carry forward Larry's vision for Appalachia and KOTM. Paul Corbit Brown of Pax, West Virginia, a short distance from Kayford Mountain, has been an active member of KOTM's speaker program, has helped design and build our solar installation on Kayford Mountain, and was a close personal friend of Larry's. Victoria Gibson Hudson, is Larry's daughter and she speaks with a voice as powerful as Larry's. We enthusiastically welcome Carol, Paul and Victoria to the Board.
Separately, Elise Keaton, a native West Virginian, has joined KOTM's staff as Fundraiser. Elise, a lawyer, has worked in non-profits and has an extensive background in fundraising. Elise graduated in 2002 from VPI where she prepared materials for use by Larry Gibson in the earlier days of his organization. Elise began full-time employment in KOTM's Charleston office on Monday, November 19, 2012. We are happy Elise has joined our staff and encourage interested persons to contact her directly at KOTM's Charleston office by phone (304-205-0920) email (elise(at)mountainkeeper(dot)org) or in person (179 Summers Street, Suite 234, Charleston, WV 25301).
Along with the addition of new members, two Board members, Tricia Feeney and Abe Mwaura, have resigned their positions. We appreciate their many important contributions during the ramp up of KOTM's operations over recent years, and wish them well in their future endeavors. Also, Danny Chiotos has announced he will be leaving his position as operations director for KOTM, effective November 15, to pursue other endeavors. We thank Danny for his long hours and hard work as KOTM's first staff person, and wish him well in his continuing service to the environmental community in Appalachia.
Lastly, Chuck Nelson and Paula Swearengen have been elected Chairman/President and Vice Chairman/Vice President of the KOTM Board. Carol Gibson has been elected KOTM Board Secretary.
Communicate directly with KOTM board members, officers and staff as follows:
Chuck Nelson, Chair of Board and President
304-934-0399 chucknelson8(at)gmail(dot)com
Paula Swearengen, Vice Chair and Vice President
304-894-8775 paulawv99(at)gmail(dot)com
Carol Gibson, Director and Secretary
304-982-5761 carollougibson(at)yahoo(dot)com
Donna Branham, Director
304-896-8844 branhamdonna(at)yahoo(dot)com
Paul Corbit Brown, Director
304-877-0375 paulcorbitbrown(at)gmail(dot)com
Victoria Gibson Hunt, Director
304-989-7023 wknight0100(at)yahoo(dot)com
Bill DePaulo, Director, Treasurer:
304-342-5588 william(dot)depaulo(at)gmail(dot)com
Elise Keaton, Fundraiser:
304-205-0920 elise(at)mountainkeeper(dot)com
"We are the Keepers of the Mountains. Love them or leave them, just don't destroy them. If you dare to be one too, call 304-204-0920."
Keeper of the Mountains Foundation is a non-profit, West Virginia corporation, founded by Larry Gibson and dedicated to empowering mountain communities and ending mountaintop removal. Contributions to KOTM are deductible under Sec. 501(c)(3) of the Internal Revenue Code.
Directions to Kayford Mountain:
1. Take I-64 to Exit 79 and turn onto Cabin Creek Road
(left turn from South, right turn from North)
2. Travel 7.5 miles, then bear right at the 'Y'
3. Travel 3.5 miles, and look for white church on right (Kayford Baptist church)
4. Cross the one lane bridge and look for small numbered signs (1-15)
5. At sign 15, bear right at the 'Y' and head up the mountain
6. Bear right at the white rock with the American flag painted on it
7. Travel 1/10th of mile then turn left into the parking area.
8. Look for the Pavilion and stage area down the hill.