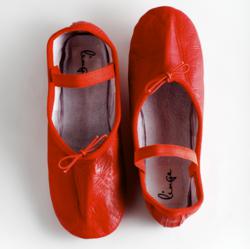 Seattle, WA (PRWEB) November 23, 2012
Linge Shoes has just released a line of colored ballet shoes that are made for comfortable everyday wear. Linge Shoes combine the classic lines of the traditional ballet slipper with bright, stylish colors for everyday wear. Linge's colored dance shoes are the perfect affordable stocking stuffer or holiday gift option for all the women in your life.
Linge Shoes are a cofortable, high quality ballet shoe for every occasion. Keep a pair in your purse to put on after a long night in heels at your holiday parties. Throw a pair in your suitcase for comfort on long flights home for the holidays. Wear them at home for a stylish and comfortable slipper option.
Linge Shoes ballet flats come in an array of colors including white, black, nude, navy, charcoal, red, fuchsia and dark teal. New colors eggplant, turquoise, caramel and purple will be released in December.
Linge Shoes are available at http://www.lingeshoes.com.
Contact: contact(at)lingeshoes(dot)com
Contact Person: Whitney Evans