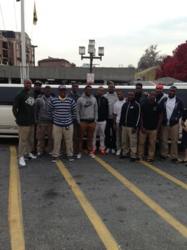 I really wanted to emphasize that message to these kids . . . no matter what you want to do, you can do it but you have to be willing to give it your all.
Baltimore, MD (PRWEB) November 21, 2012
Tyrod Taylor, quarterback for the Ravens, treated a very deserving group of Baltimore student athletes to a gourmet lunch at the Rusty Scupper, located above the Inner Harbor Marina. Taylor invited members of the Reginald Lewis High School football team to lunch in honor of their successful season on the field and for their improvements in the classroom.
Taylor wanted to ensure that the group had an all-around unforgettable experience and arranged for roundtrip transportation in a stretch SUV via An Extraordinar Limo service.
Upon arrival, Taylor and teammate Dennis Dixon escorted his special guests to Rusty Scupper's private dining room with breathtaking, floor to ceiling views of the harbor, where Executive Chef Mark Miranda graciously crafted a sumptuous menu especially for the group.
There was an air of excitement as the attendees and restaurant staff proved to be big fans of their home team and asked Taylor many questions about his life as an NFL player and how it felt to be part of the Ravens' organization.
During lunch, Taylor led the group in a mentoring session where he advised the attendees to follow their dreams but to always have a fall back plan. He emphasized setting goals in order to make any dream a reality and had the group participate in a goal setting session. Each student set one short-term and a long term goal followed by Taylor encouraging and offering suggestions on achieving these goals. He also talked about the importance of patience, using his position as the back-up quarterback as a metaphor.
"It's nice to be able to do what I love everyday, but it took a lot of work to get here and it takes even more work to stay here" said Taylor, "I really wanted to emphasize that message to these kids. No matter what you want to do, you can do it but you have to be willing to give it your all and you'll see the fruits of your labor."