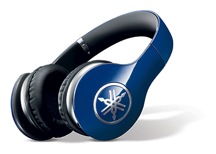 BUENA PARK, Calif. (PRWEB) November 26, 2012
Hi-tech gadgets and music products are always very popular gifts during the holiday season, and NOT just for the tech or music-savvy. As home and portable technology becomes more sophisticated, and oftentimes more affordable, the average consumer expects more from the products that deliver their entertainment experiences. Below are eight gift ideas that will provide hours of enjoyment to even the most discriminating musicians and audiophiles:
Yamaha PRO Series Headphones leverage the company's expertise as the world's largest musical instrument manufacturer and the leading choice of professionals for studio and concert audio gear. The top-of-the-line high-fidelity PRO-500 headphones ($399.95 MSRP) are optimized for iPods, iPhones, smartphones and iPads and designed to faithfully reproduce audio recordings from the full spectrum of musical genres with natural sound that is balanced, yet vivid. The aesthetics reflect the power, elegance and performance of racing motorcycles, with dynamic geometry, ultra-clean design lines and bold colors (racing blue and piano black). Two other models, the PRO-400 ($299.95 MSRP) and PRO-300 ($199.95 MSRP) are also available.
The award-winning Yamaha THR10 (MSRP: $460) and THR5 (MSRP: $330) may be the best-looking music player/guitar amps ever made. Though small, they sound huge and serve as great recording interfaces. Compact amps are usually just miniature versions of black vinyl-covered boxes, but the THR is designed for the home, not the stage. Both models draw on Yamaha's innovative consumer electronics and professional audio pedigree to deliver powerful sound in a tasteful, attractive package. (In fact, they have won design awards, so they're wife/girlfriend approved.) Plug in a smartphone for full-sounding playback. These battery powered, portable and lightweight amps offer easy computer connectivity for pro-quality recording.
Yamaha's PDX-11 (MSRP: $129.95) portable iPhone/iPod dock delivers amazing sound quality anywhere and everywhere. Available in four eye-catching colors, the battery or AC powered PDX-11 features a striking octagonal shape with a perforated steel grill designed for overall toughness. A sturdy "grab and go" roll bar chrome handle makes it easy to enjoy your favorite tunes in the home or dorm room, at a party on the beach, in the backyard or for game-day tailgating. The dock is powered by a 4-inch woofer, which drives accurate, kicking bass and stunning midrange and a separate tweeter that provides crystal clear high frequencies. The PDX-11 also can be connected to a PC, Mac or other digital audio player via a mini jack (3.5mm) on the back of the dock.
Unleash your inner virtuoso with the Yamaha EZ 220 Keyboard (MSRP: $229). Groovy lighted keys, built-in wireless connectivity to the Page Turner iPad app and 100 preset songs with digital scores make the EZ 220 the perfect learn-to-play keyboard. The instrument also features a USB TO HOST port for computer connectivity to interact with a wide range of music programs for hours of learning and fun.
The TC Electronic Flashback X4 Delay and Looper guitar effects pedal (MSRP: $369), with breakthrough iOS and Android TonePrint apps, is the perfect gift for the aspiring rocker. In addition to featuring 12 amazing recreations of delay sounds, it enables guitarists to channel the Rock Gods with downloadable TonePrints – or signature sounds – from Joe Perry (Aerosmith), Ron "Bumblefoot" Thal (Guns N' Roses), John Petrucci (Dream Theater), Steve Morse (Deep Purple) and James "Munky" Schaffer (Korn).
Half guitar, half ukulele and all fun, the Yamaha GL-1 Guitalele (MSRP: $140) is the perfect option for on-the-go pickers looking to add a new sound to their instrument collection. Chord fingering and tuning are the same as any standard-tuned guitar, but now six-string slingers can get in on the ukulele craze with a unique instrument.
Get connected with Yamaha's P-105, the ideal digital piano for learning, collaborating and interfacing. New this holiday season, the P-105 (MSRP $999) features the PureCF sound engine, which recreates the sound of Yamaha's famous CFIIIS concert grand piano, giving this portable instrument the distinctive sound of one the world's most acclaimed concert grand pianos. The 88 keys feature a Graded Hammer Standard weighted action that gives it a heavier feel in the low end and a lighter feel on top - just like a real piano. Duo Mode, which gives students the ability to practice side by side, each with their own 44-keys and middle C, makes this digital piano ideal for schools teaching group lessons. Finally, the versatile USB TO HOST port and line-level AUX outputs allow a variety of connectivity options with everything from an amplifier to an iPad, unlocking a world of possibilities.
Practice in silence with headphones or plug into an amp with Yamaha's SV-130K (MSRP: $1,025) Silent Violin, which features a sleek modern look yet offers the sound and feel of an acoustic instrument. Connect an iPad, smartphone or CD player to jam along with your favorite songs. Available in four stunning colors - candy apple red, navy blue, antique brown and black – the Silent Violin is perfect for dorm and apartment dwellers.
About Yamaha
Yamaha Corporation of America (YCA) is one of the largest subsidiaries of Yamaha Corporation, Japan and offers a full line of award-winning musical instruments, sound reinforcement and home entertainment products to the U.S. market. Products include: Yamaha acoustic, digital and hybrid pianos, portable keyboards, guitars, acoustic and electronic drums, band and orchestral instruments, marching percussion products, synthesizers, professional digital and analog audio equipment, Steinberg recording products and Nexo commercial audio products, as well as AV receivers, amplifiers, Blu-ray/CD players, iPod docking systems, home-theater-in-a-box systems and its exclusive line of Digital Sound Projectors. YCA markets innovative, finely crafted technology and entertainment products and musical instruments targeted to the hobbyist, education, worship, professional music, installation and consumer markets.
ABOUT TC
TC Electronic was founded in 1976 with the objective of developing, manufacturing and marketing first class audio products that provide lasting user value for audio professionals and musicians. Based in Risskov, Denmark, TC sells their products through a dedicated sales force in Europe, and through sales subsidiaries located in Los Angeles (for the North American markets), Beijing (China), and Tokyo (Japan). Independent distributors cover other markets. Currently TC employs close to 185 people worldwide working in 15 different countries.